Serious engineering for next level results
Worldpoly, a leading manufacturer of high-quality HDPE pipe welding equipment, has finished manufacturing its latest beast, the PolyForce1000i Tracked. Built from high-end components, the machine is 100% engineered and built in Melbourne, Australia. The latest technology lets you weld ISO 21307 from 500mm to 1000mm at speed, for incredibly reliable welds day in, day out. Not one feature has been left out, ensuring you get the best at every stage of operation.
But what makes us qualified to deliver a machine so good it blows the competition out of the water? 60+ years of PE pipe history combined with over 50 years of butt welding and 20 years of manufacturing butt welding equipment. A lot of time spent learning how the right machine can change your operations, creating safer, faster and better poly welding.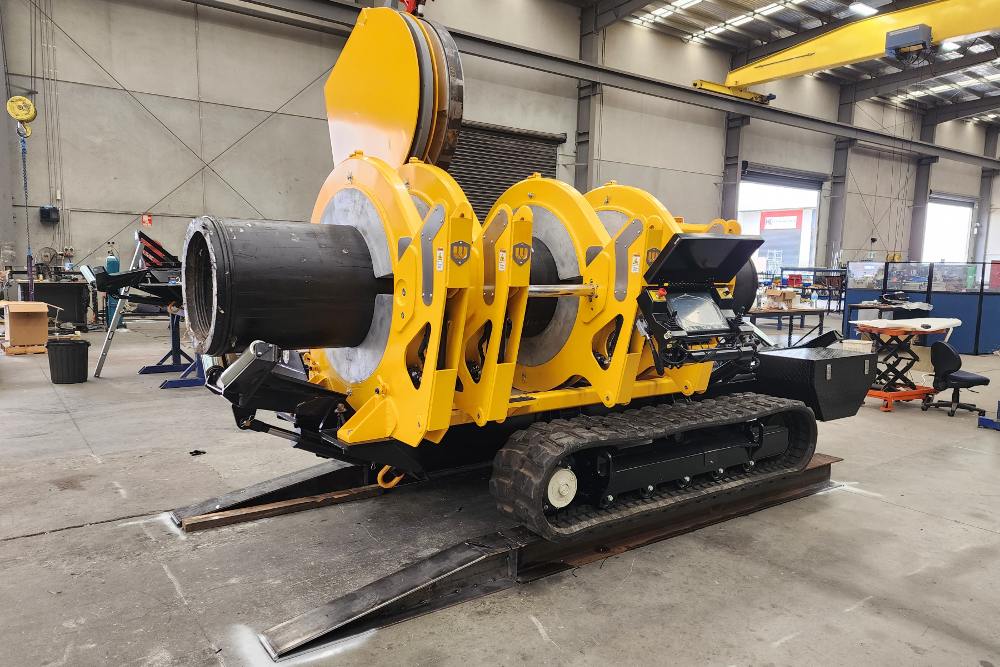 Smart-technology means less work and more welding
The PolyForce contains the very latest in fusion technology. A rugged mobile Bosch Rexroth PLC sports an intuitive almost bullet-proof touchscreen, while advanced sensors enable autonomous operation. On-demand hydraulic cooling also makes welding in 60+ degree environments like open cut mines a simple task. Coupled with a data logger capable of 20,000+ welds and cordless remote as standard, the PolyForce is the smart choice for poly welders in any industry.
We've also been smart with our component selection, taking into account rugged conditions in remote locations. With rubber tracks 50% wider than the competition, driven by high-power Rexroth drives and a Yanmar engine, nothing on this machine will let you down. Exactly what you need when losing a single day is equal to 10's of thousands of dollars, if not more. By using top-end suppliers, you don't have to wait for spares, so when things do go wrong (rare), you get operational faster. We'll even help you find local parts and hydraulic/electrical technicians if it can get you welding faster, because we're in the business of keeping you welding.
Key highlights
Components from Rexroth, Yanmar, Danfoss, Mecc Alte etc.
Operator removed from pinch and crush potential
Burst sleeves on all hydraulic hoses
Monitored safety stops
Keyed hydraulic lockout
Two-hand operation for movement
Handsfree pipe clamping
Eliminated man-entry
Low-noise engine
Cordless remote and data logging as standard
You may also be interested in