This is not a sales pitch, it's nothing short of an engineering marvel. A true testament to the teams ability and experience. A story of an OEM who listens to the specific needs of an industry.
Safety? We design and produce these machines in Australia, and Bosch Rexroth wrote our original operating program, making us both responsible for how the machine works. For the past 8 years nobody has requested safety enhancements on our machines because they don't need them. Safety is a major part of the design.
Overheating? We fit high-power hydraulic fans specifically for cooling the hydraulic oil, operating in Pilbara open-cuts at well over 50 degrees. Your screen goes black in the sun? Ours operate at 70'C, or storage at 80'C, direct sunlight, fully sealed with M12 connectors, IP66, NEMA 4X/12 rated with hazardous location and marine certifications, tested to 4 g RMS sweep sine for vibration and 40 g 11 ms half sine for shock. In short, they're fit-for-purpose because we know where you're going to take the machine, and unlike in other countries that means something in Australia.
PLC errors? We use the super-rugged Bosch Rexroth PLC they put in underground rock drills, so no 'changing circuit boards due to operator error' because of normal heat, dust and vibration. We use super-rugged components designed for use in typically Australian remote environments.
Servicing problems? Hydraulic hose fittings, nuts and bolts, facing tool chains, electrics foreign to your local service people? Not ours.
Spare parts delays? Stop cannibalising your machines to reduce down-time. Our original components were sourced locally, so chances are they're already on the shelf nearby.
Operator nightmares? Have you been told it's operator error', and there's nothing they can do for you? The people who designed, fabricated, assembled and tested our machines are all in your time zone, speak roughly the same language, and are probably Aussies. You'll be blown away by our legendary service and support.
"Fit for purpose … with typical Australian harsh conditions squarely in mind. Read on to learn about every minute detail."

Rob Hall – Managing Director
The specs
Multi-layer safety monitoring and isolation system
Emergency stop push buttons are located at all operating areas.
The smart safety relays monitor the emergency stop buttons for activation (& failure) and wiring faults.
Electrical system has manual forced reset on emergency stop button activation.
The 12V system has dual pole isolation on the battery.
Main electrical box has 240V and 3 phase power systems isolation switches.
Hydraulic system with electrical isolation switch.
Engine control system is protected from electrical surges that may occur from emergency shut-downs.
A buzzer and safety beacon provide audible and visual safety measures when the machine is used for specific operations.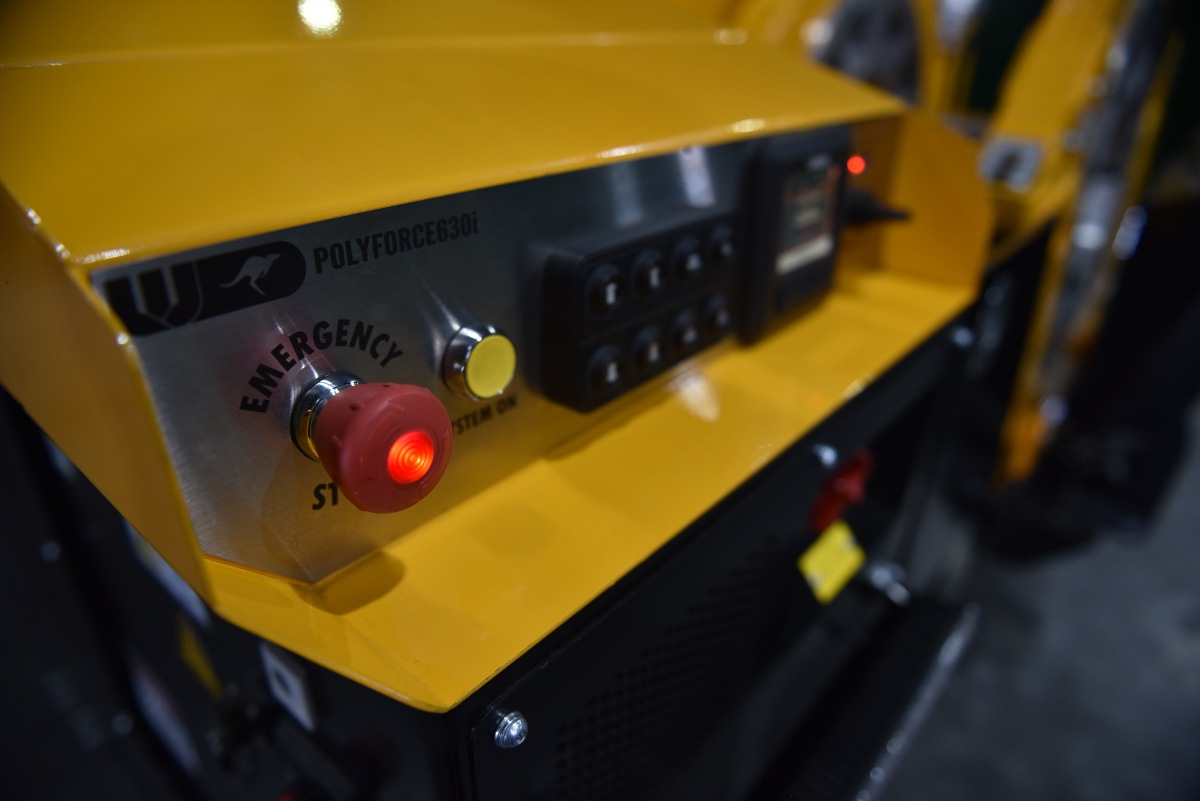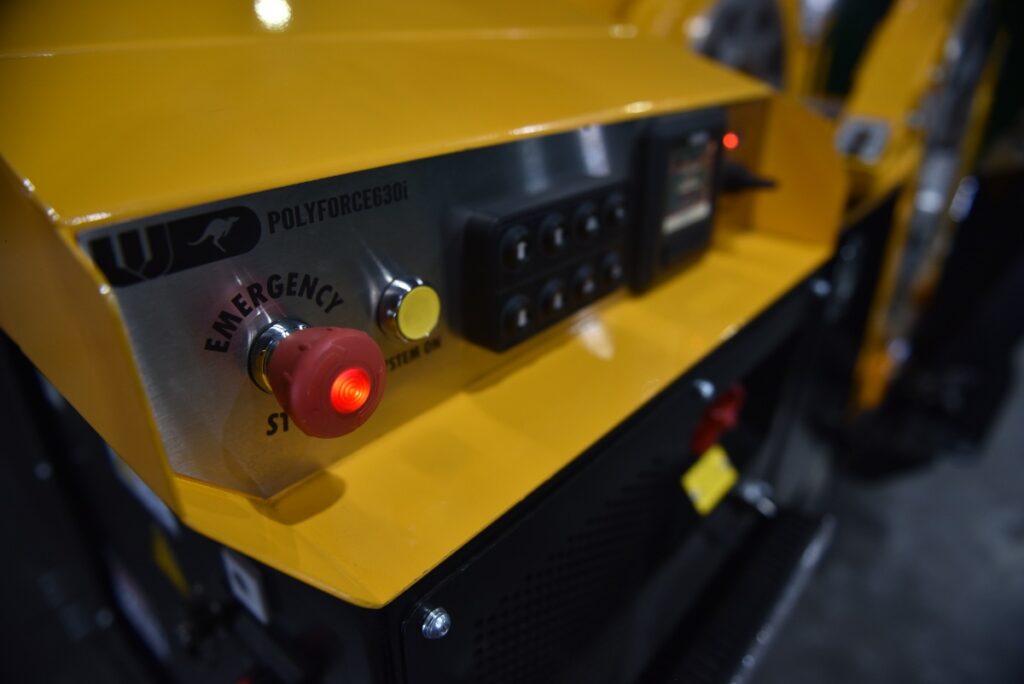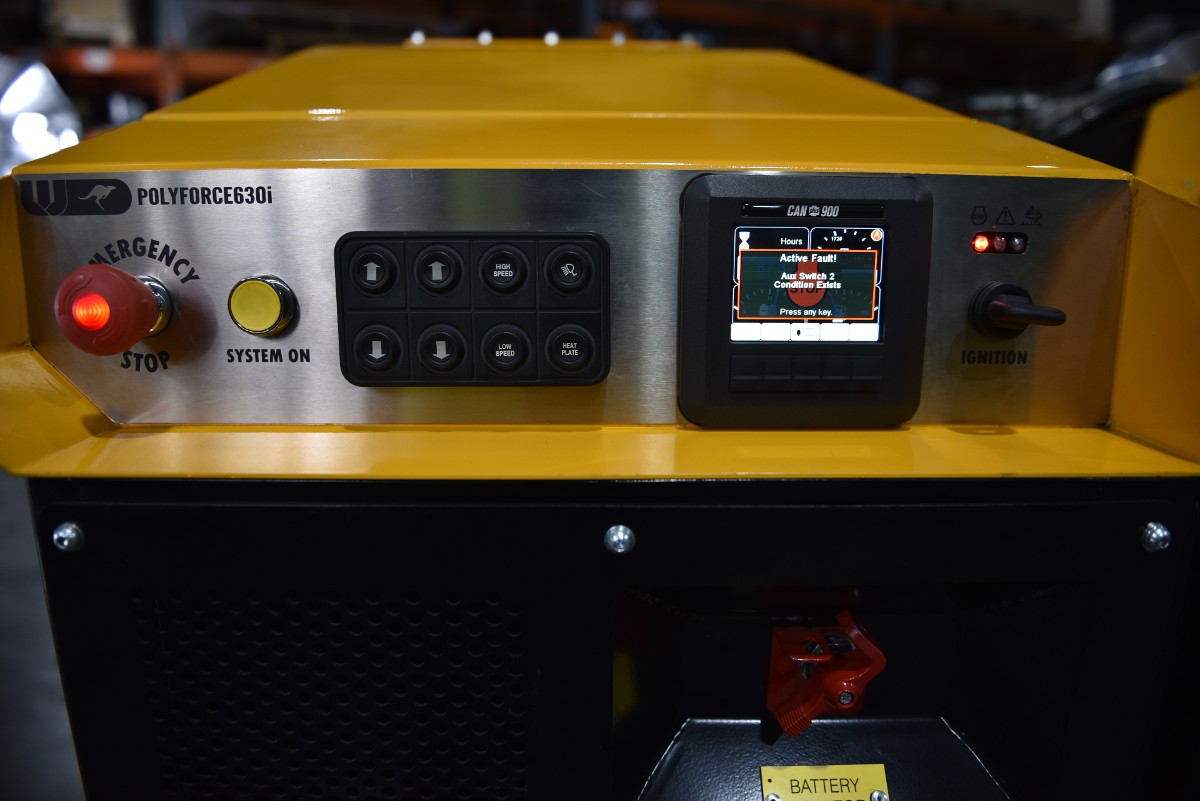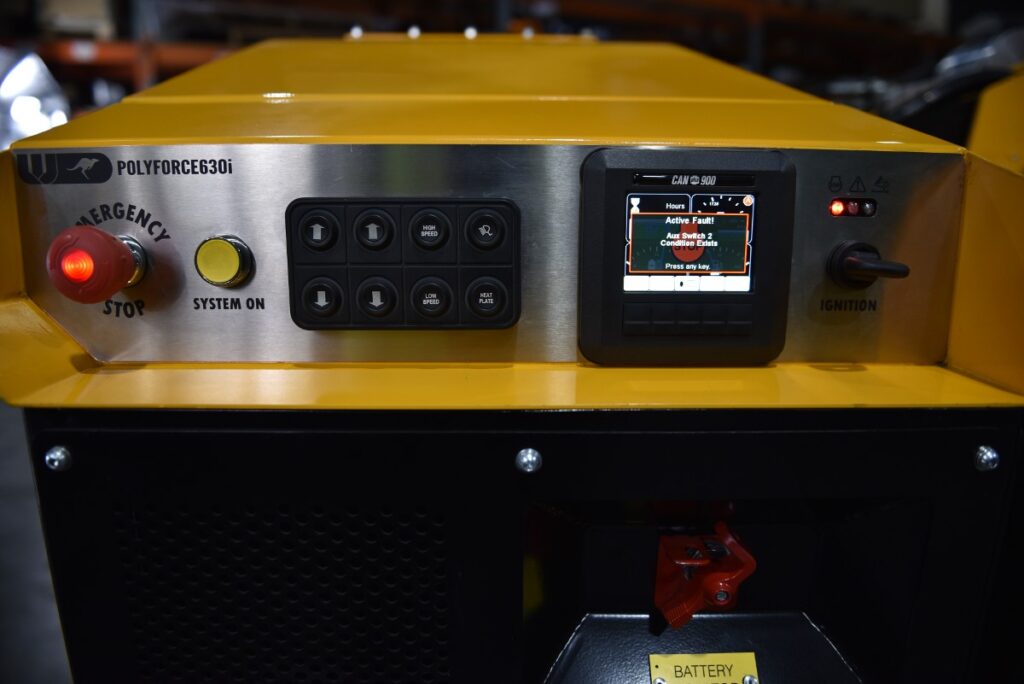 HMI (Human Machine Interface)
The 12in Beijer X2 Extreme Rugged HMI panel has a super bright display with a sun visor being a part of the housing design.
Workflow and ease of operation are optimised with new HMI programs.
Large on-screen buttons with interactive visual animation (when activated) allows for easy and fast operation.
Safety for the operator is paramount on the PolyForce range.

Dual redundancy joysticks, featuring two access movement and operator presence control (OPC) buttons.
Two hands are in constant contact with the joysticks.

Yanmar CAN based engine controller for engine telemetry and fault diagnosis is clear and simply to read.

A bright colour screen, engine system monitoring with feedback LED and Yanmar's clever QR code fault diagnosis.

Operating the machine's tracks has been optimised with three options for the user.

Remotely from the included Scanreco remote control
Using the 12in Beijer screen which can move out away from the moving machine making walking and operating the machine safer in both nudge and travel operations.
OR using the engine controller CAN buttons on the dash.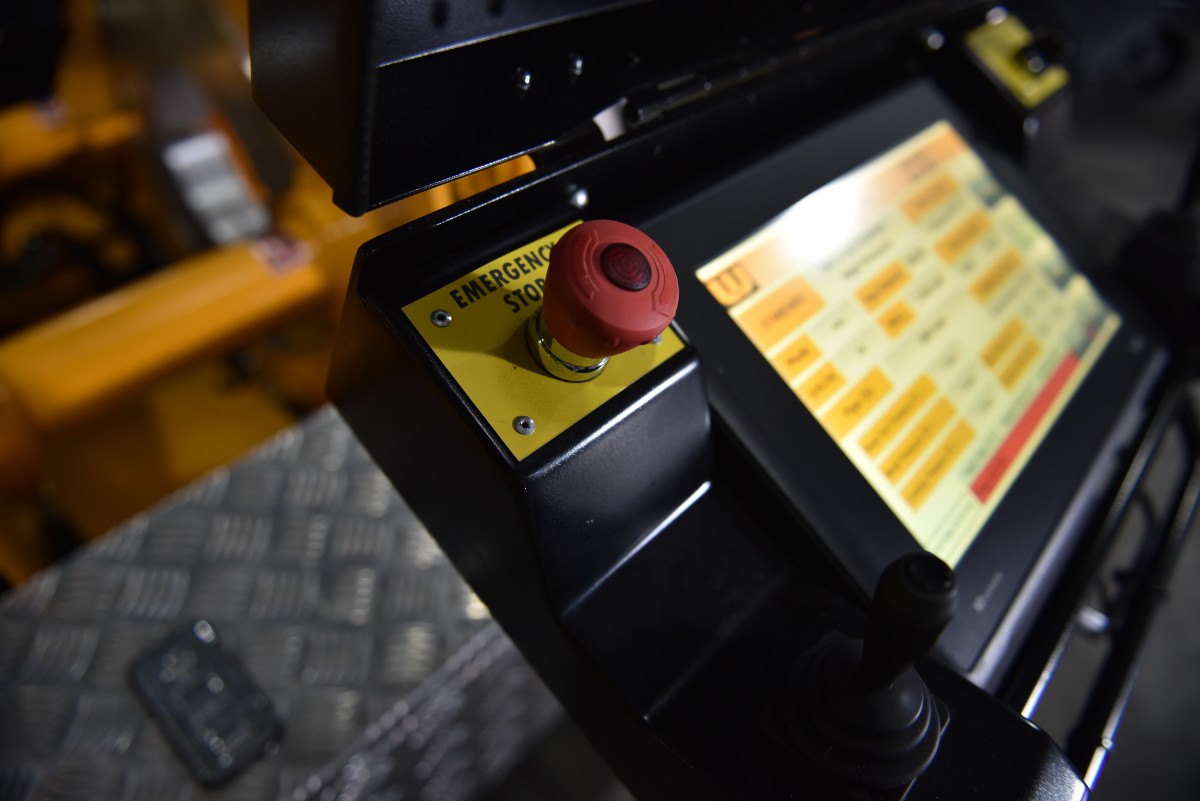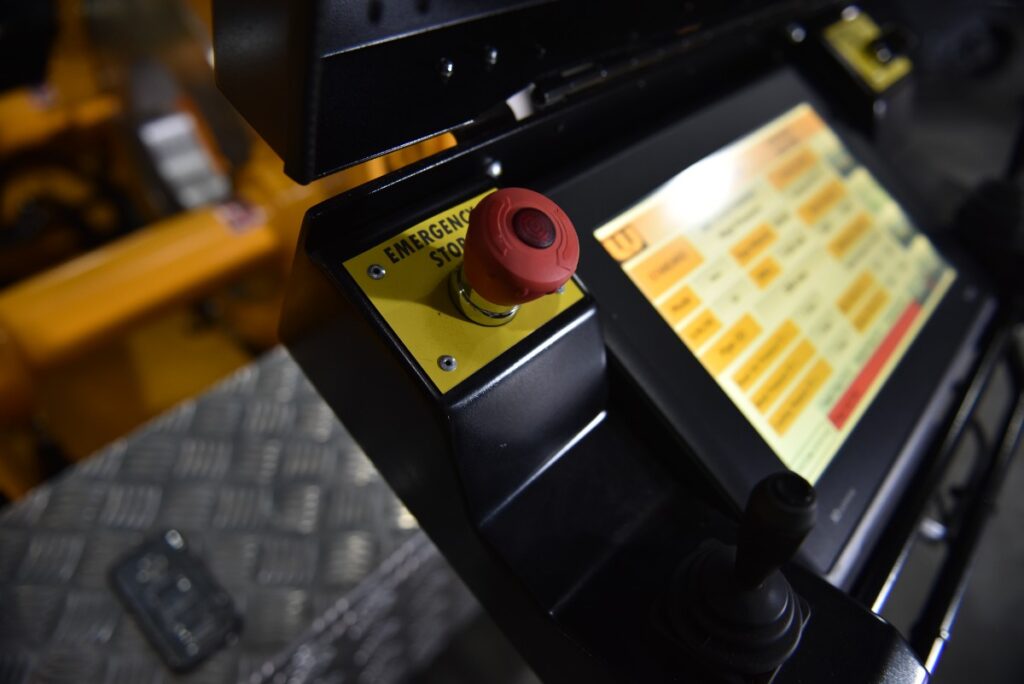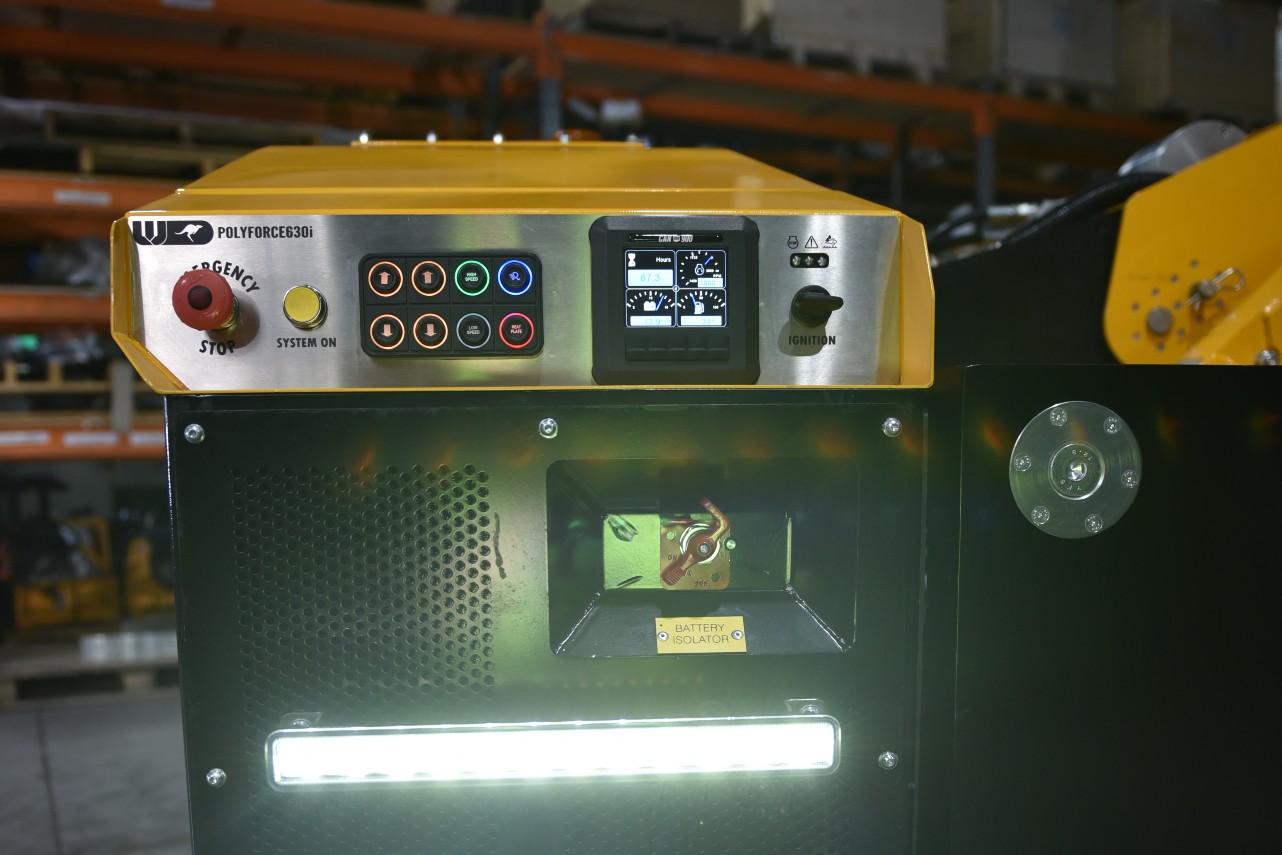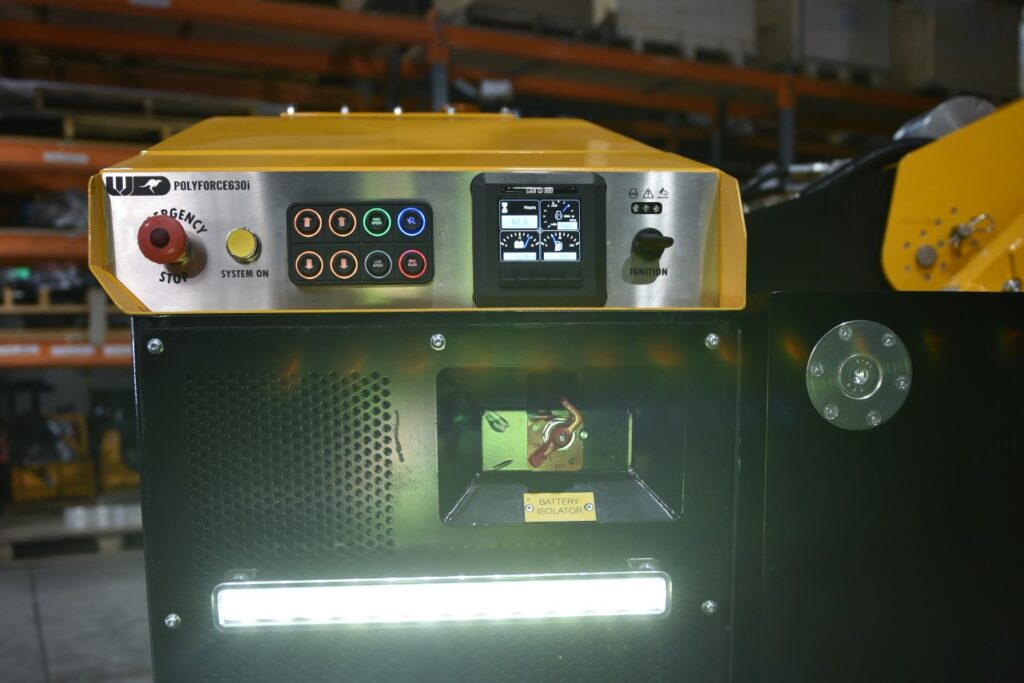 Focussed on removing unnecessary wiring and complex integrated componentry.
Worldpoly's new CAN control system uses the latest in CAN system technology found in industrial robotics machines. This system is also used in other rugged and simplistic systems. Eg. Market leading Earth moving equipment.

Smart CAN controller modules are strategically located in protected positions.
CAN controller modules enable a reduction of the wiring on the machine by 50%. Also greatly reducing sensor reaction and monitoring times.

The Rexroth CAN self-monitoring modules, sensors and solenoids that Worldpoly use are available over the counter internationally.
Any reputable electrical or diesel maintenance company will have no issues with service and repair.
Small efficient electrical box
The 12V engine system and 24V machine control system are completely separate.
Bosch Rexroth PLC
Engine coolant temperature, hydraulic oil temperature and the hydraulic load monitoring are all displayed during machine operation.
Automatic data logging with no operator input required.
All electrical plugs are sealed to IP67.
The system has been redesigned to use standard automotive fuses and relays.
Worldpoly's 630i automated program adapts with pipe sizes and environmental conditions to optimise overall parameters and target parameters, whilst providing crash protection for the operator.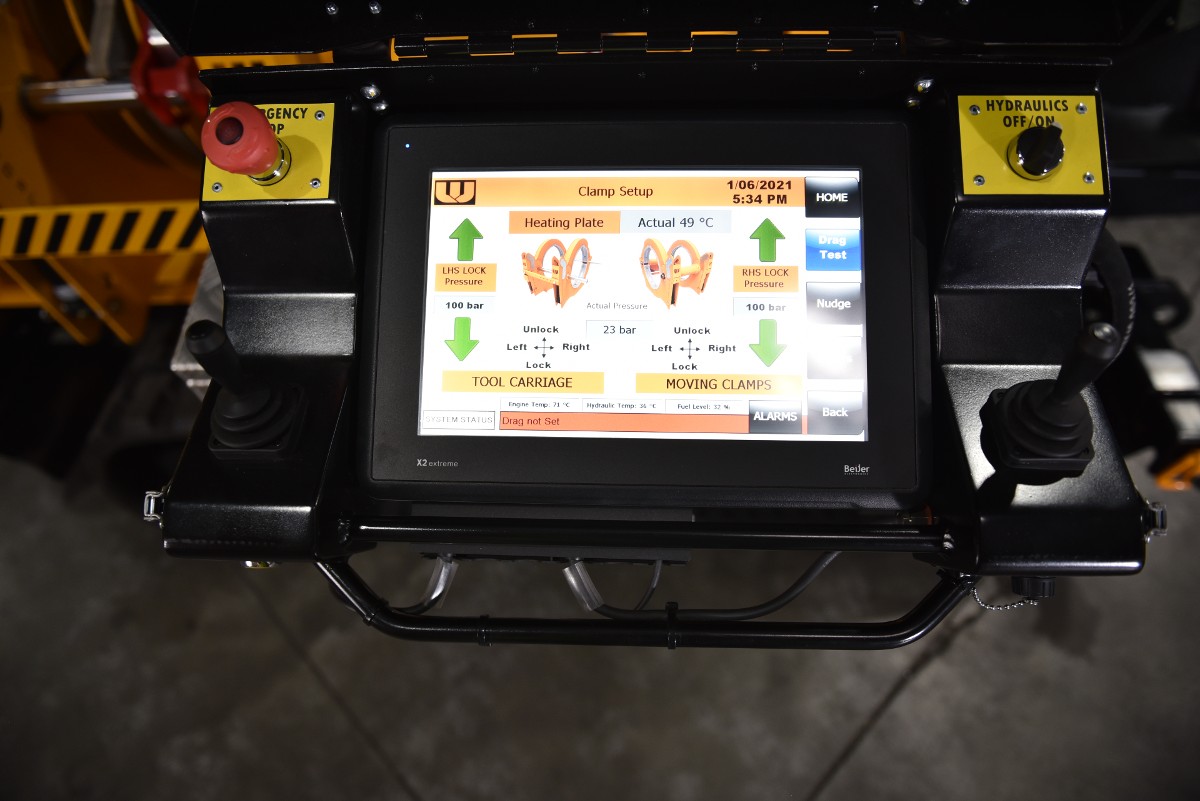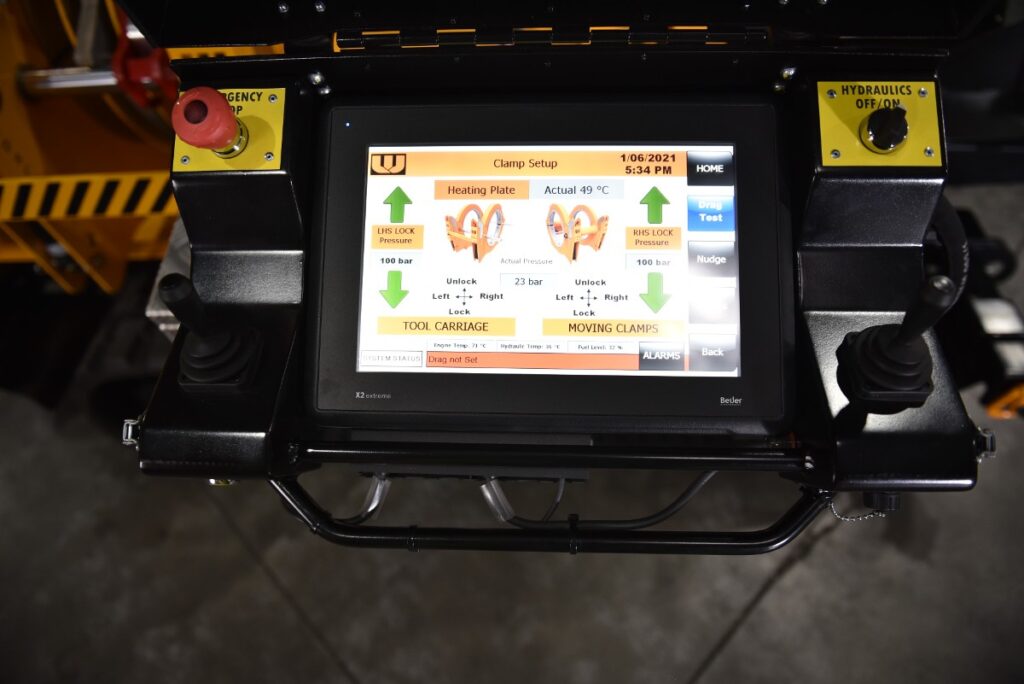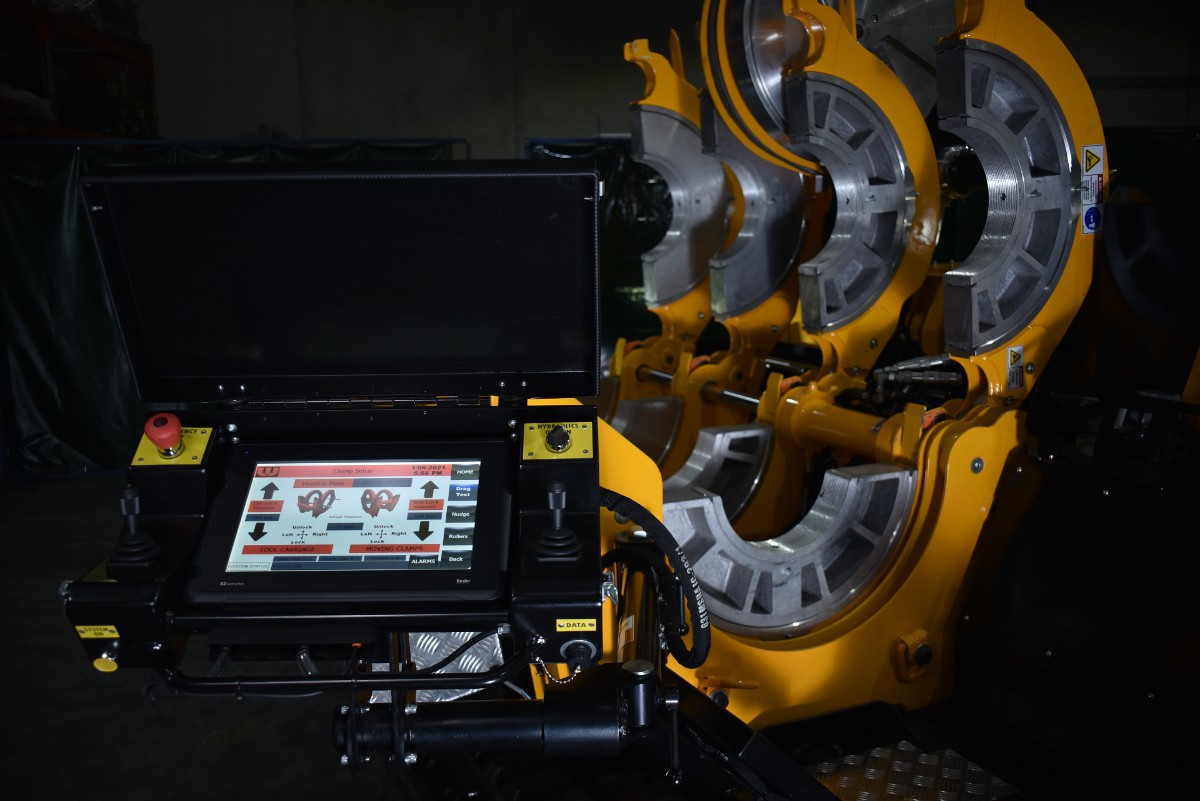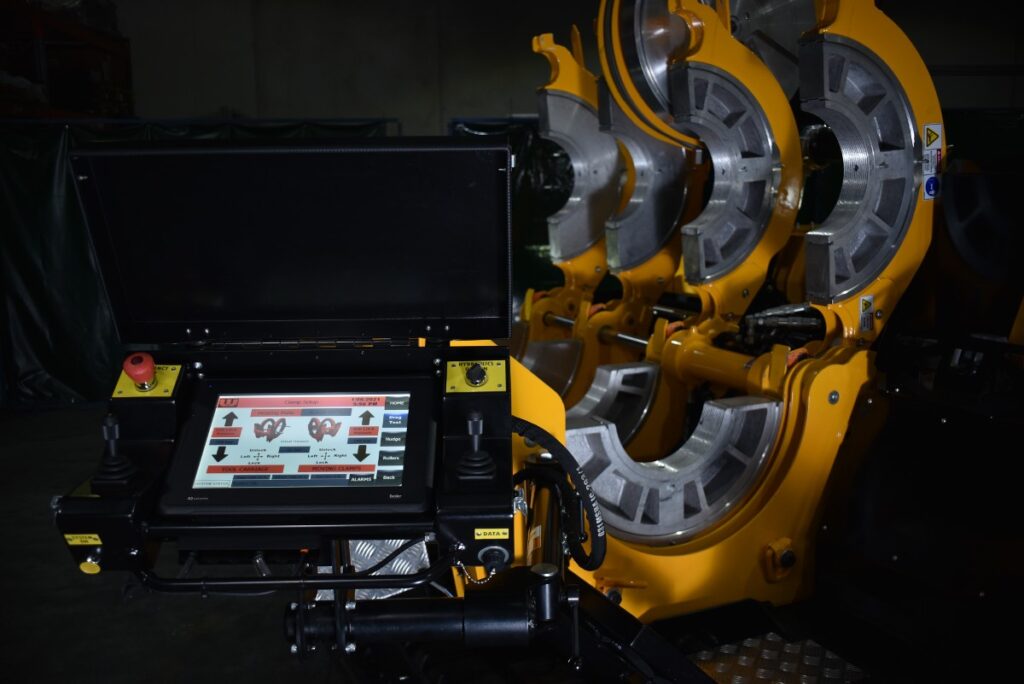 Power Generation and Output
Meccalte 3 phase 18kVa alternator sized for extended life.
The alternator is hydraulically driven from its own hydraulic system and mounted on heavy duty dampeners to prolong life.
Remote control charger USB and cigarette lighter charging point is located inside the toolbox for operator convenience.
350A Anderson plug jump point standard on all machines
Optional 240V, 15A outlet
Optional 3 phase inlet for indoor welding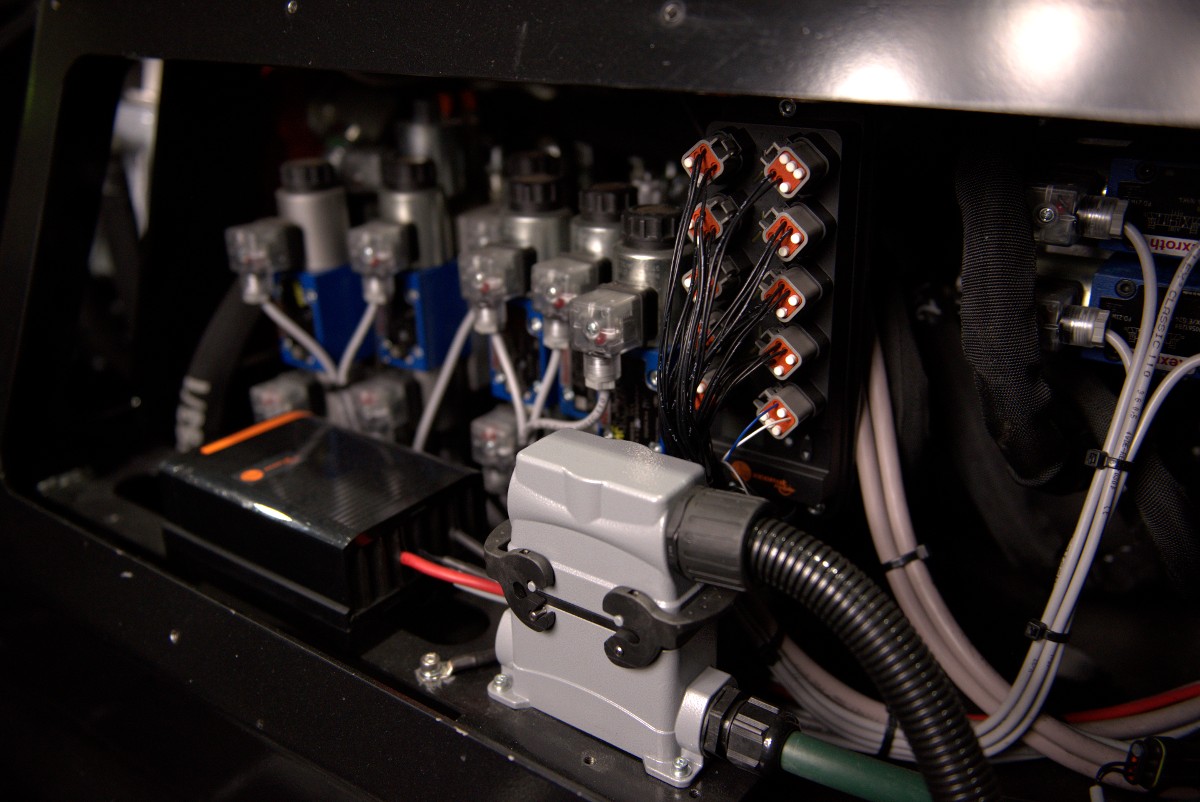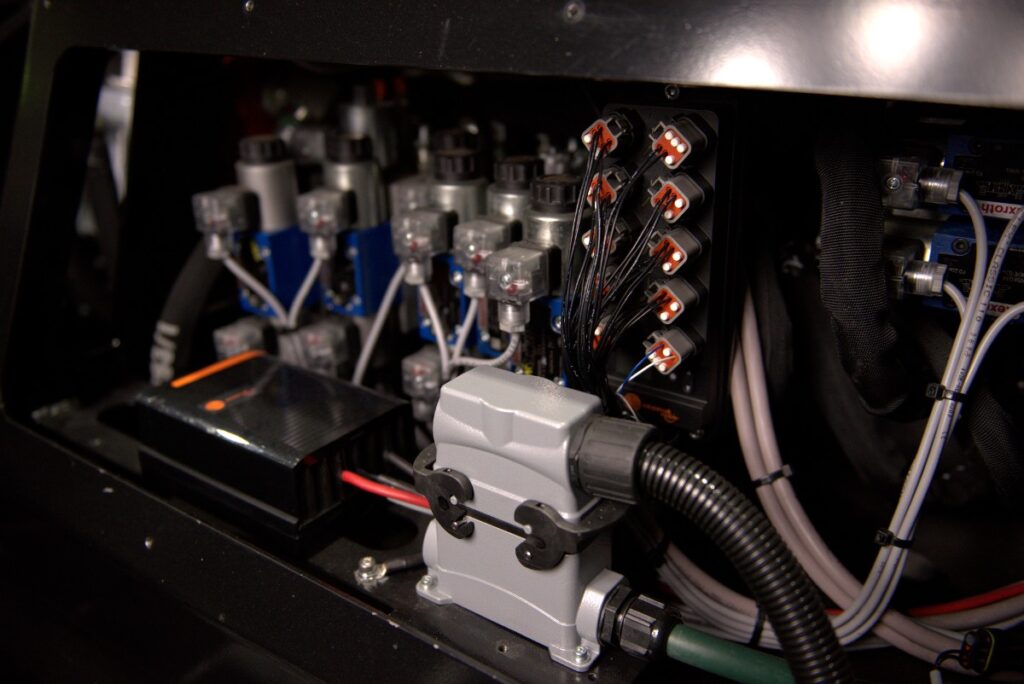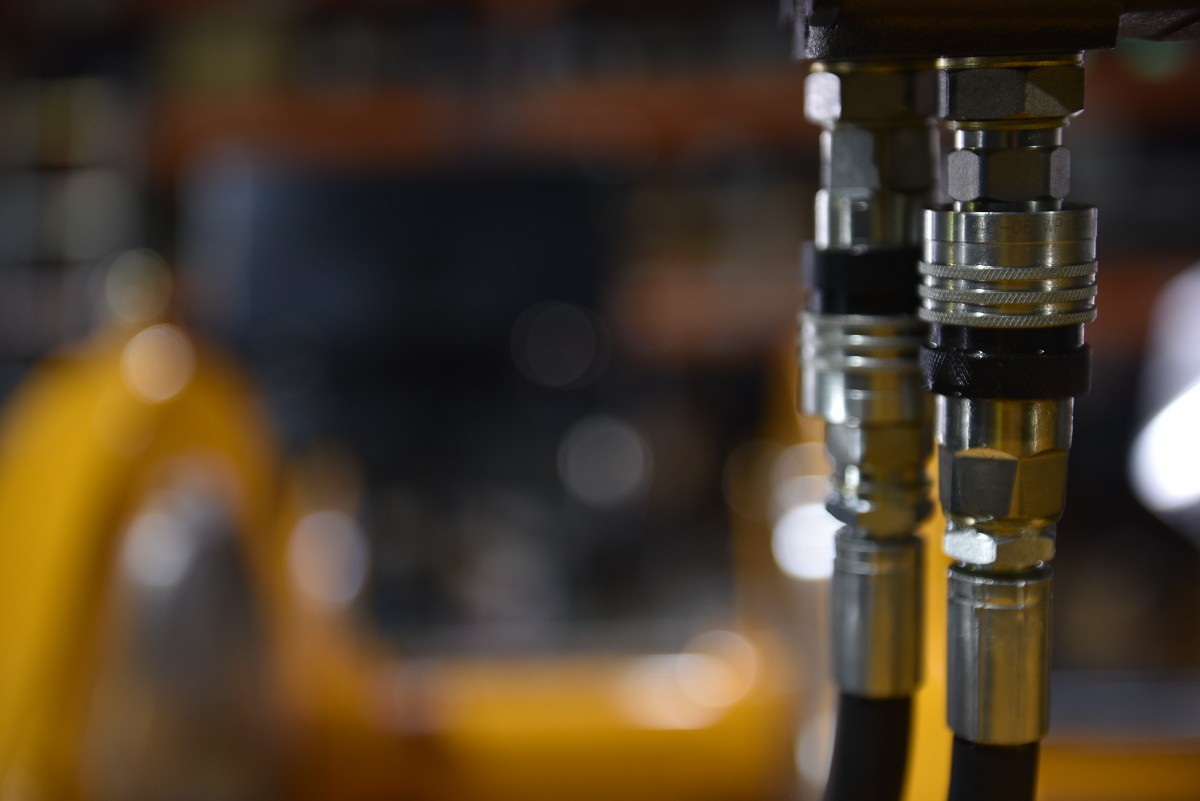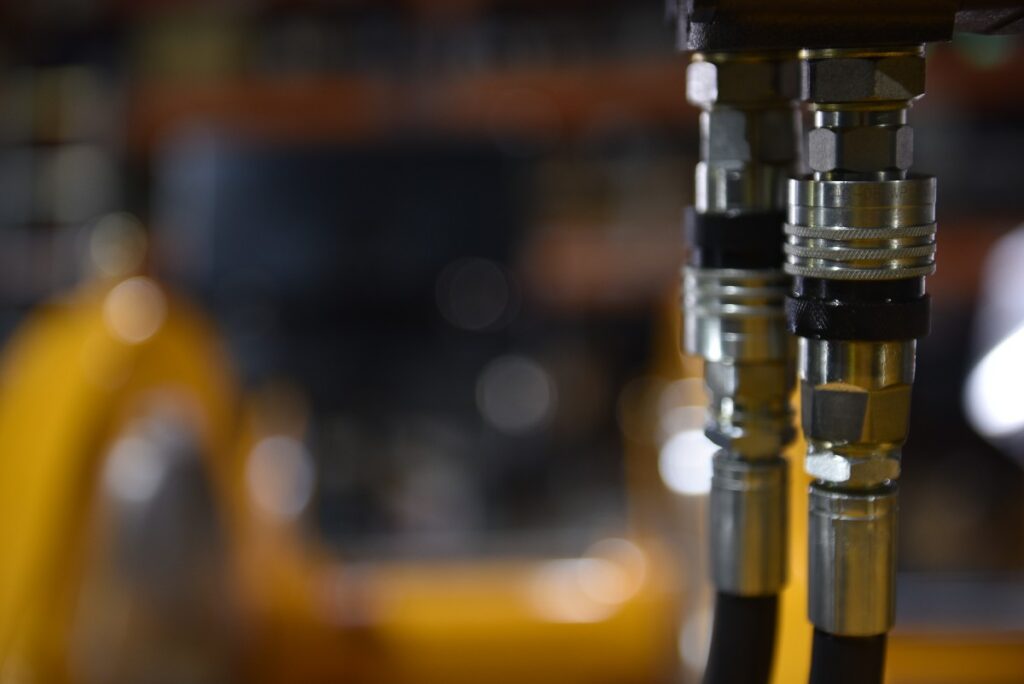 Australian Model
Yanmar
4TNV84T Generator Spec
1800RP
26.8kW output
4 cylinder
1.995L Displacement
Diesel
13hr run time
Water cooled
USA Final Tier 4 Model (Nth. American market only)
Yanmar
4TNV86CT
Common Rail Diesel
1800RPM
26.8kW output
2.091L Displacement
Diesel
13hr run time
Water cooled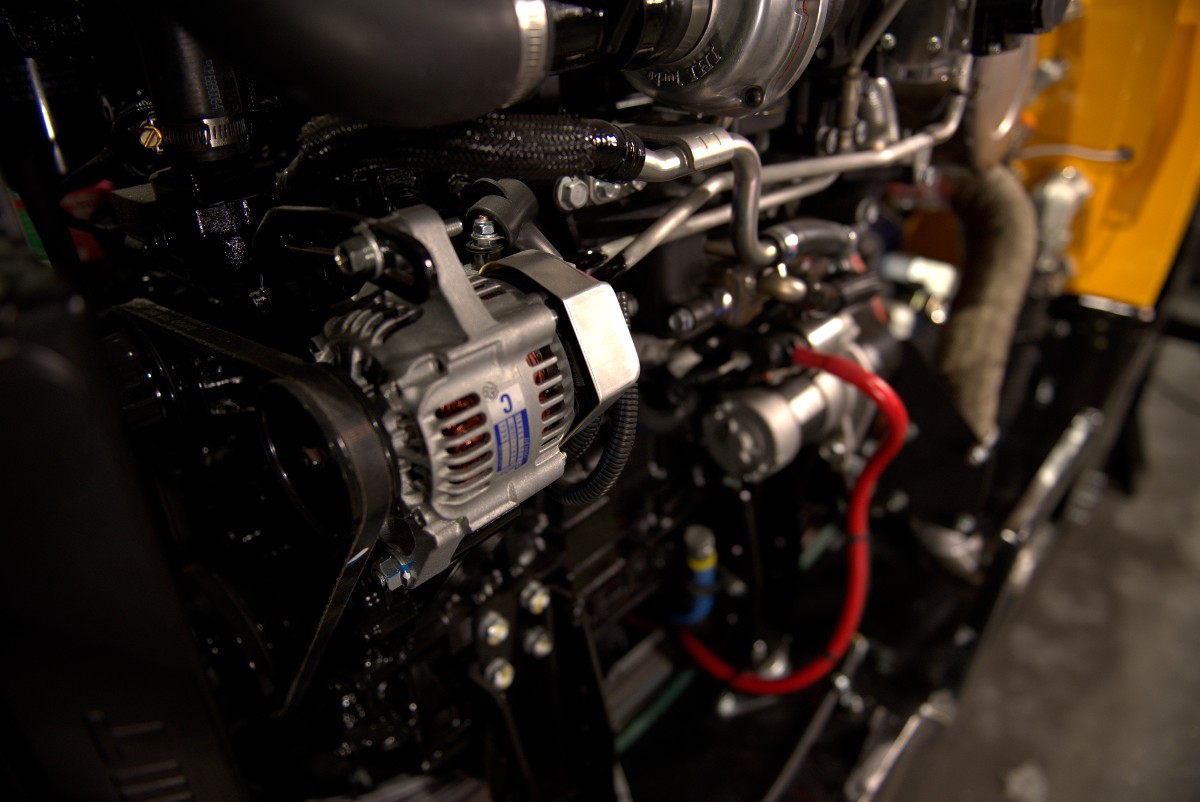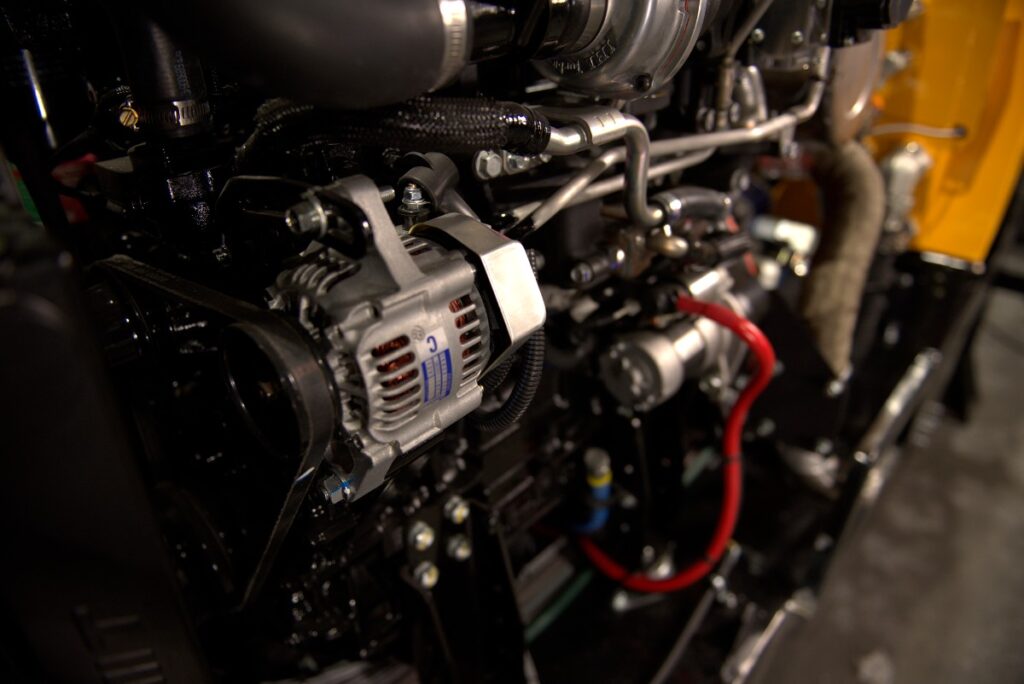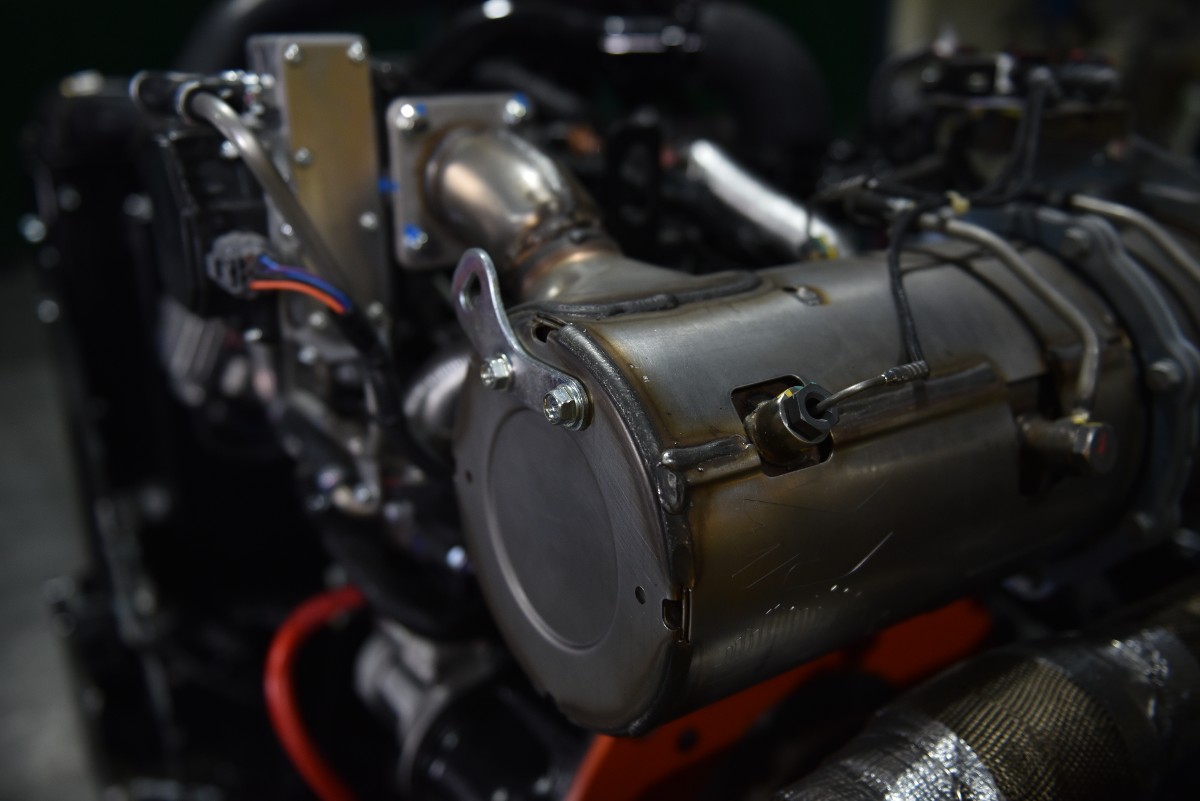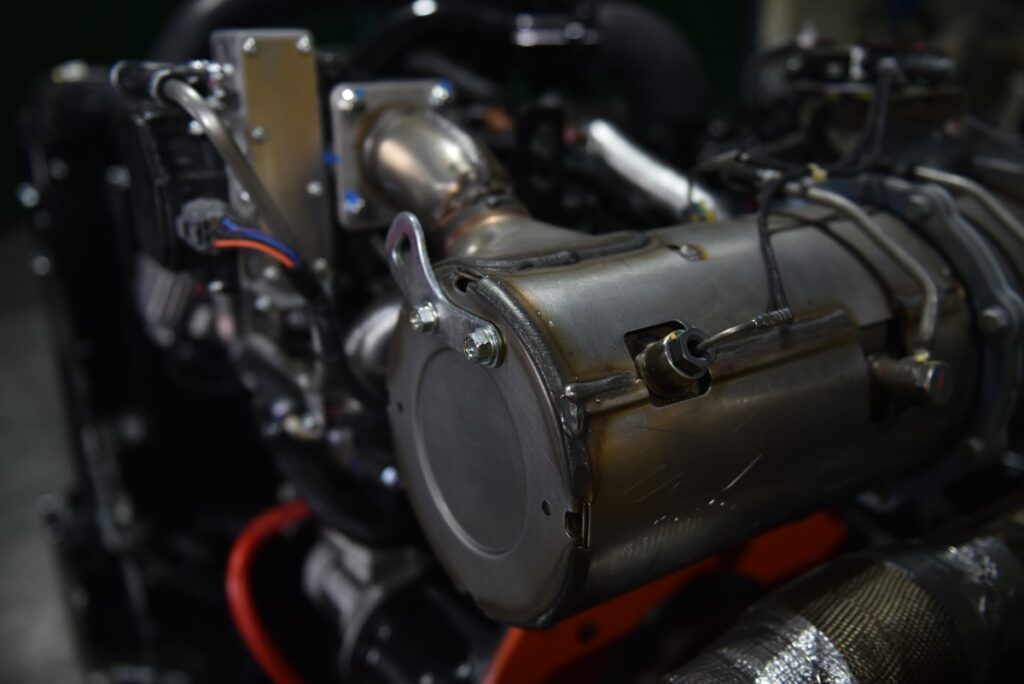 Danfoss variable displacement piston pump for main system and accessories. Load sensing capabilities. Only loads motor when needed.
Vivolo gear pump for alternator drive and cooling fan drive with variable speeds for hot and cold environments.
M+S facing tool hydraulic motor
High volume cooler by OMT
Nordon Hydraulics accessory cylinders
Delta Hydraulics main welding cylinders
Dual monitoring of system pressure for accurate loads
High and low resolution of main cylinders
All hydraulic movements are proportionally controlled
Industry standard manifolds
Industry standard Cetop valves
Self-regulating facing tool load
Full PLC control – 205Bar max system pressure
100L oil storage for long oil life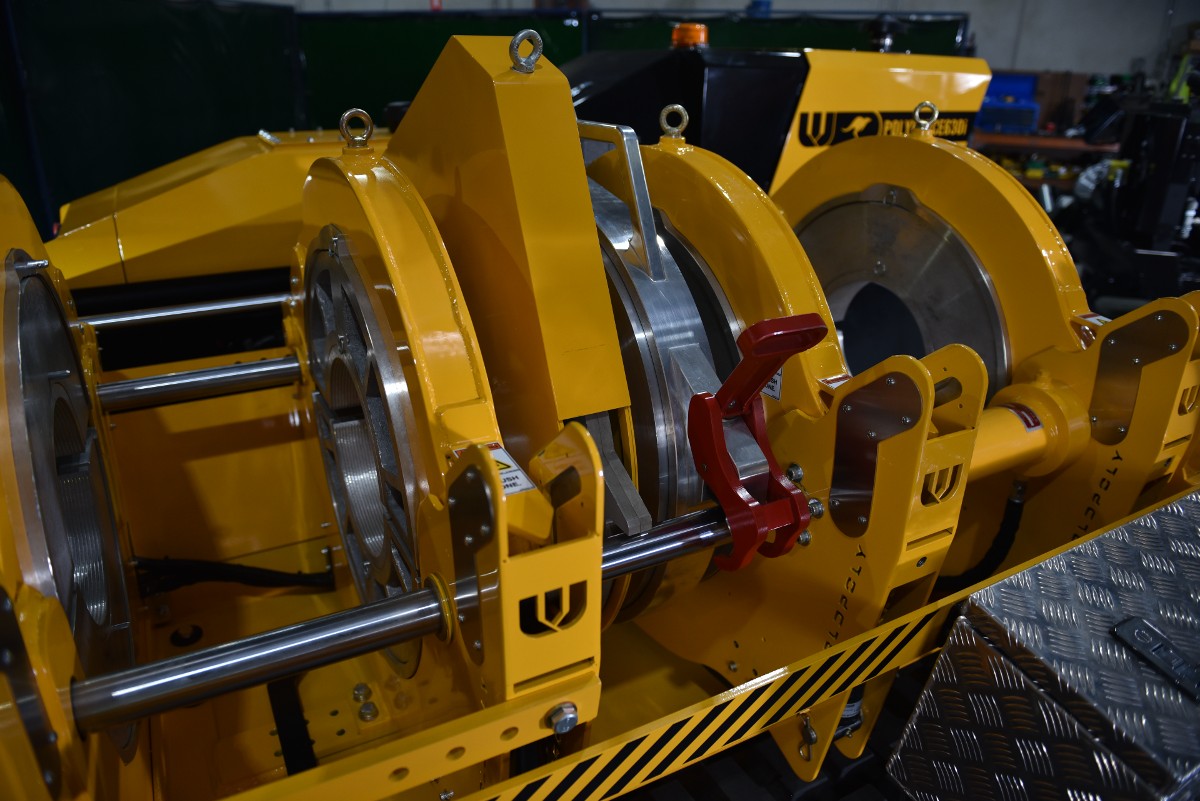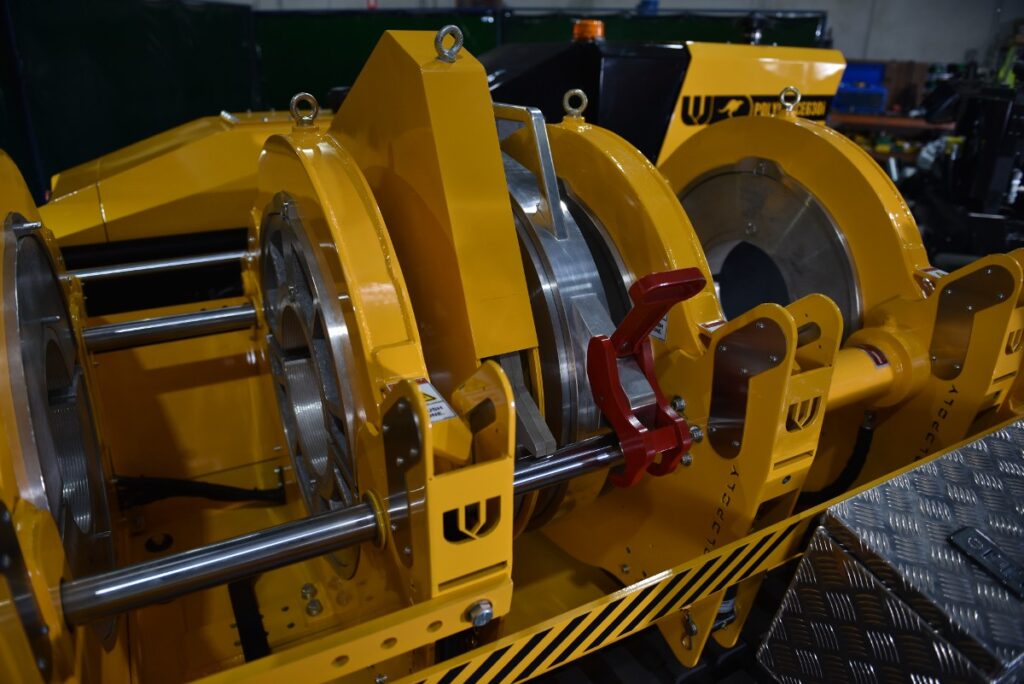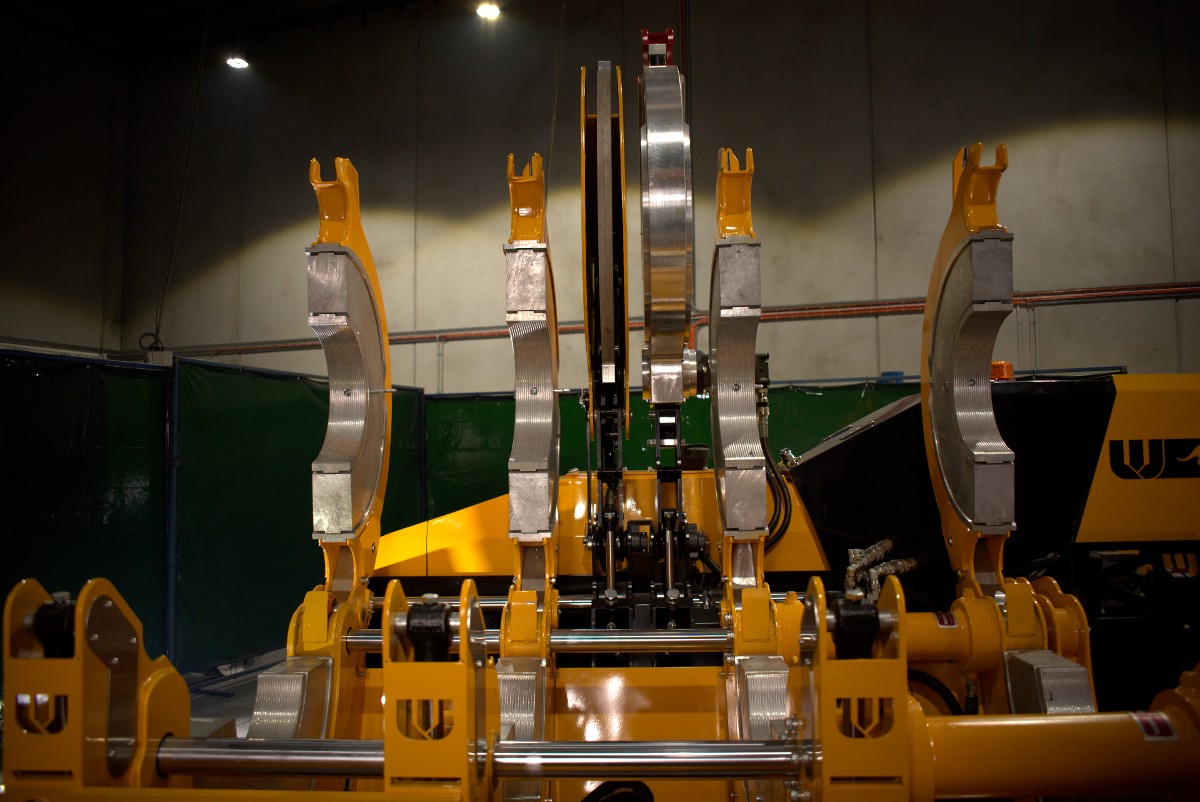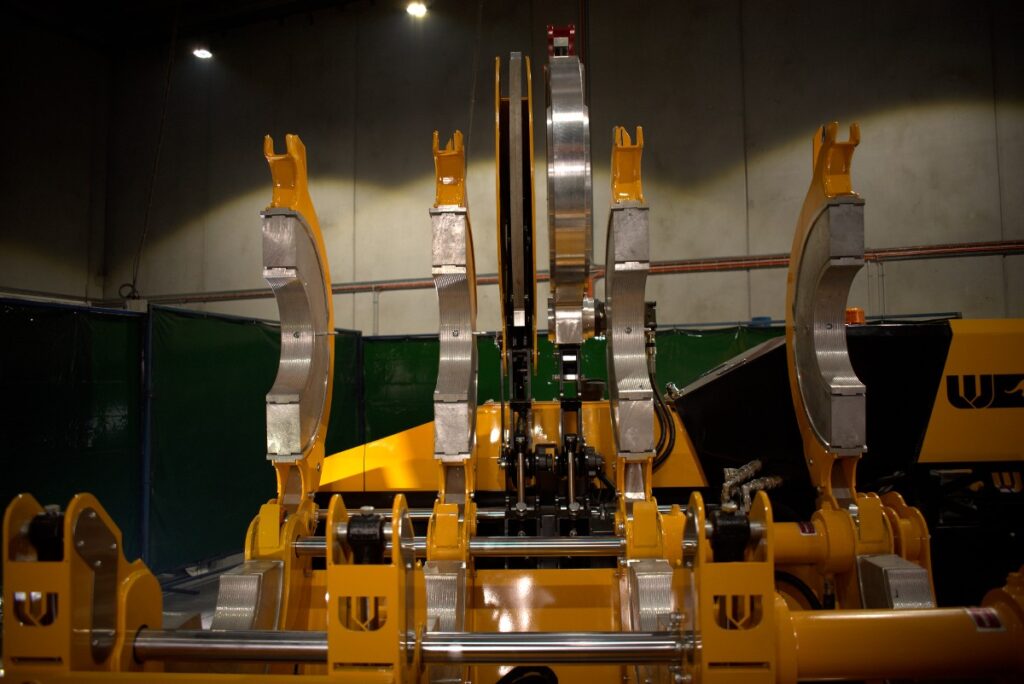 An extra mode allows users to customise the level of interaction with the machine.
Auto weld mode
User inputs pipe data and the machine calculates all times & pressures (from the chosen Standard) and then uses the built-in auto change over function.
Manual weld mode
User can control pressures similar to a manually valved machine and the machine uses the built-in auto change over function.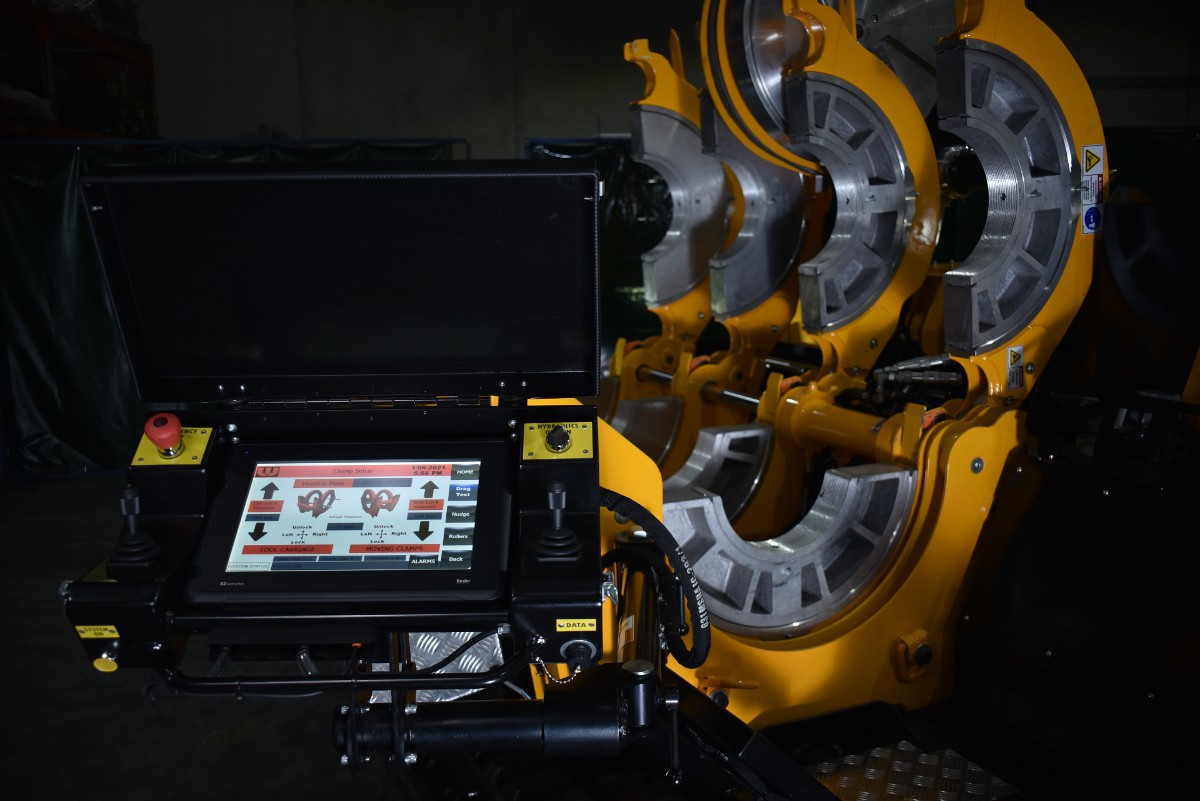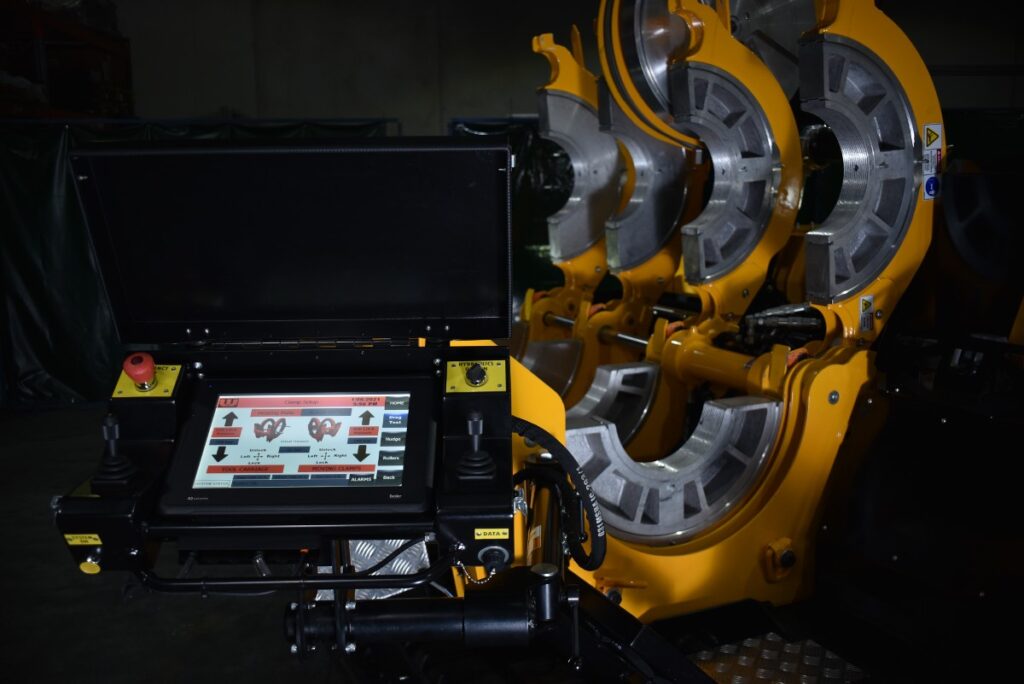 Tracks
300mm wide dual direction track rubbers for low ground pressure.
Tracks orientation favours machine movement towards new pipe.
Two speed travel (0.75MPH and 2MPH).
Chassis
High strength chassis with tow points.
Built in outriggers primarily used for lifting with certified lifting inserts but can be used secondarily with optional;

Umbrella mount insert
Light tower mount insert
Workbench mount insert
Overhead canopy
Steps and platform

Lightweight aluminium bash guards under the chassis allow water and debris to pass without allowing damaging objects to hook hydraulics or fuel components
Chassis is built using an independent locating plate to make fitting and removing both tool carriage and welding carriage quick and easy
Locating bosses and shear plates keep the welding carriage aligned with the tool carriage during all operations.
Thorough computer analysis and optimisation. External high force pipe lifters with sealed bearing rollers
Engine Cover
Two position tilting assisted aluminium cover with mechanical lock
Position 1 allows the user easy access to regular daily checks
Position 2 allows the user full engine replacement or other major service requirements without needing to lift the cover off
The 5mm engine cover allows for harsh use and added protection.
Full insulation layered inside the cover creates a micro environment for the engine for both temperature and containing the engine noise.
Improved performance from the engine in hot and cold environments with the variable cooling fan
Hydraulic variable speed extraction fan services both the radiator and oil cooler
Hydraulic cover
Three removable panels allow direct access to all main manifolds, CAN module, fuel particle separator and main fuse box
A protective guard protects wireless antenna and quick release plugs for the tool carriage, heat plate and weld carriage
Top clamps
Hydraulic open and close
Hydraulic lock and unlock
Quick release for in trench work
Removable main liners if they get damaged
Lift points for those who are OH&S conscious
Bottom clamps
Components are internal in the clamp to protect from damage
Large locking cylinders stop any chance of pipe slippage
Multiple lifting lug locations for in trench and general lift in/out
Rear bash guard and clean bottom plate make cleaning out pipe offcuts easy
Main liners removable if they get damaged
Weld carriage
Main liners have been designed to allow competitor insert liners to fit (call our sales team to find out more)
High grade steel used
Quick release hydraulics with easily to identifiable fittings
Dual onboard CAN modules react quickly to commands and increase accuracy of movements
Main cylinders are flange type cylinders that unlike the tension rod style commonly used on cheaper machines
High pressure, low friction seals used
Trench ready
Facing tool
Turned from a single piece of billet aluminium
Dual chain drive for added strength
Adjustable teeth depth
Quick release for trench work
Alignment bolts allow facing tool to be aligned with pipe and heating plate
High RPM facing
High torque hydraulic drive
Fully automatic smart speed and feed
Heat plate
Two-piece design for cheap element replacement
8.5kW
Teflon coated
Quick release for trench work
Automatic cover with constant alignment. The cover stays over the heat plate even when heating a pipe. This removes the issues caused by high winds making the heat plate misalign on retraction
Quick release cover
The cover is 5mm thick aluminium which has structural ribs. This adds thermal mass and keeps heat in. We heat quicker, stay hot for longer and keep the plate inside the cover for as long as possible
Tool carriage
Onboard easy access hydraulic manifolds
Onboard easy access CAN module
Quick release tools
Quad high load, high grade linear bearings create an unmatched frictionless tool system
Built in linear transducer in our main tool position cylinder means no damage can occur and high accuracy is maintained
Easy access grease points
Removable as complete unit from machine for maintenance or for when major service of machine is required
High strength main rods
Main rods have been designed based around future maintenance and ease of removal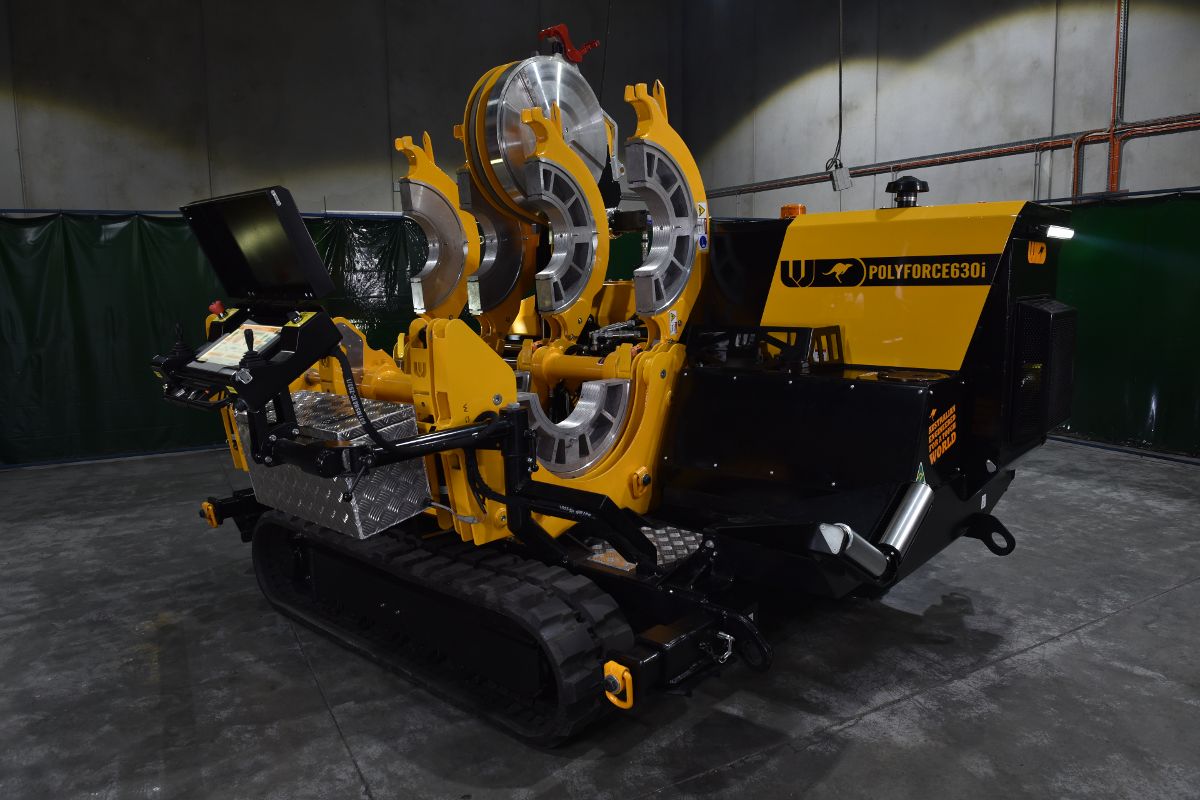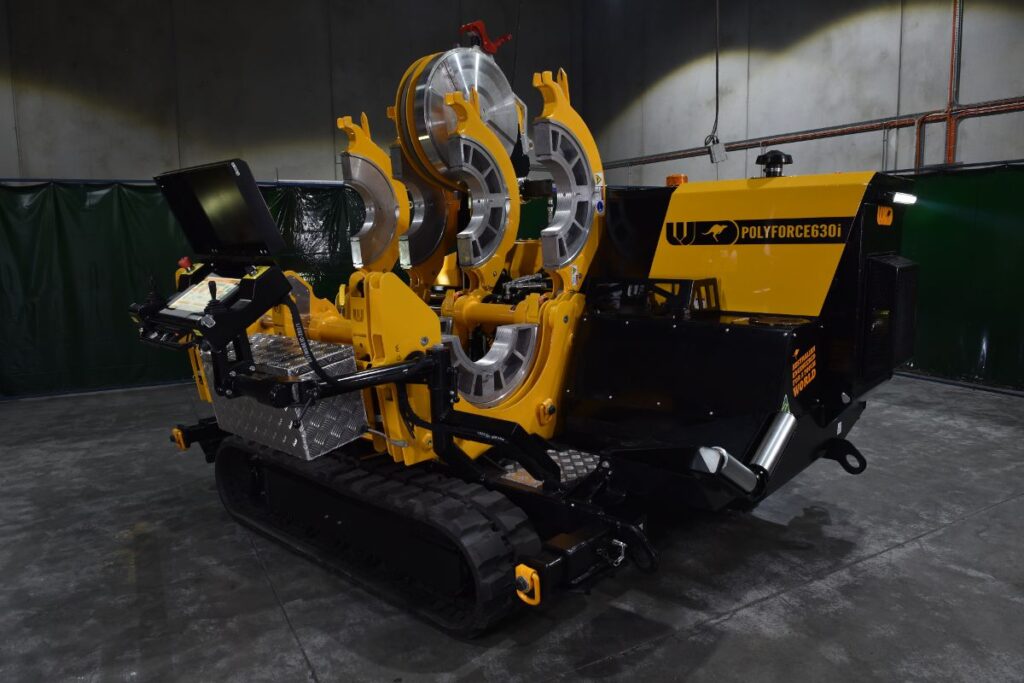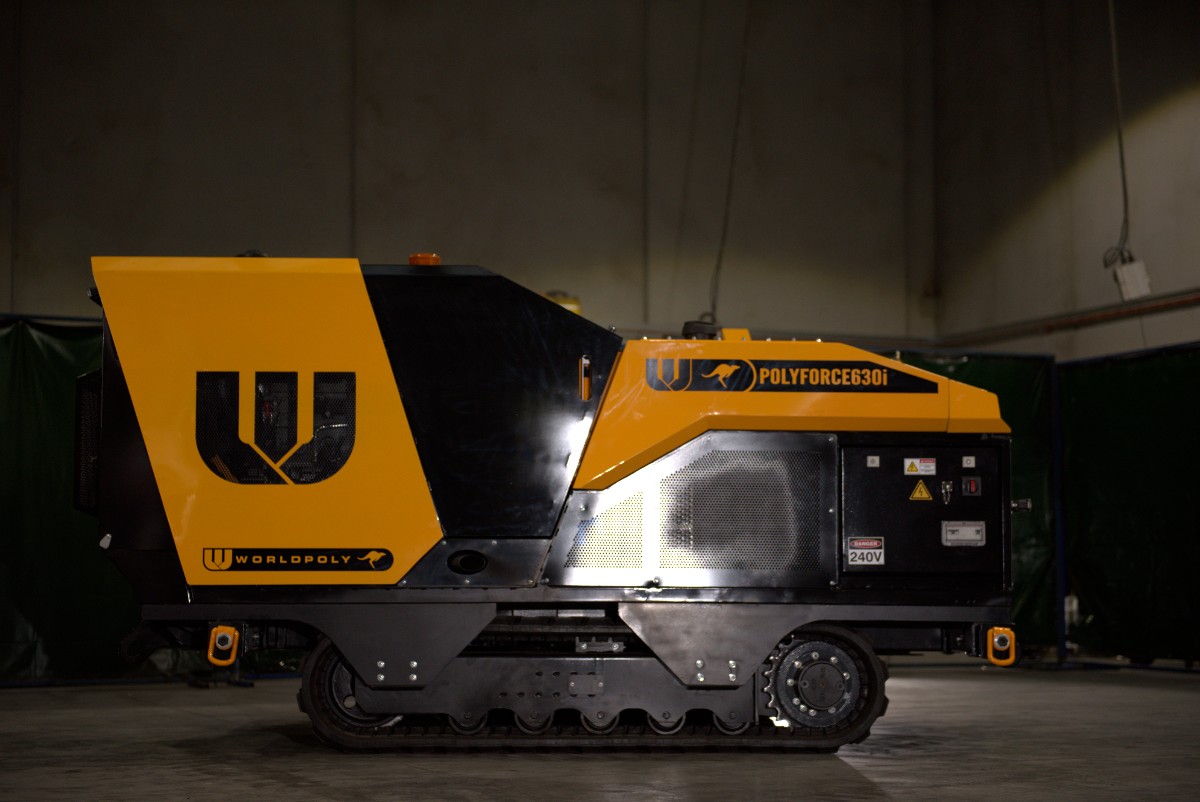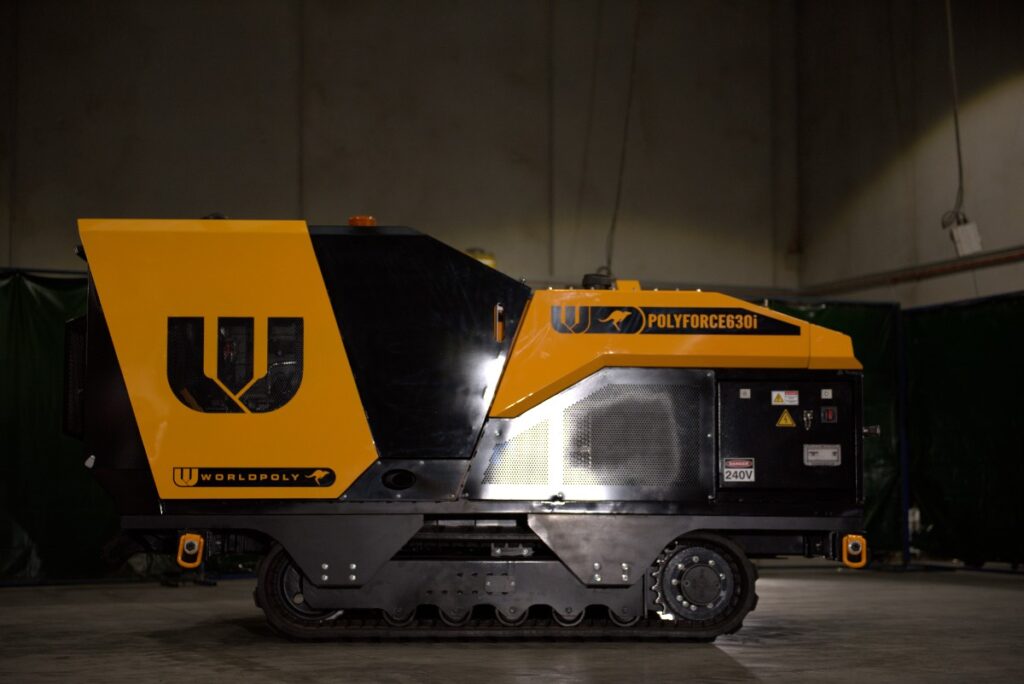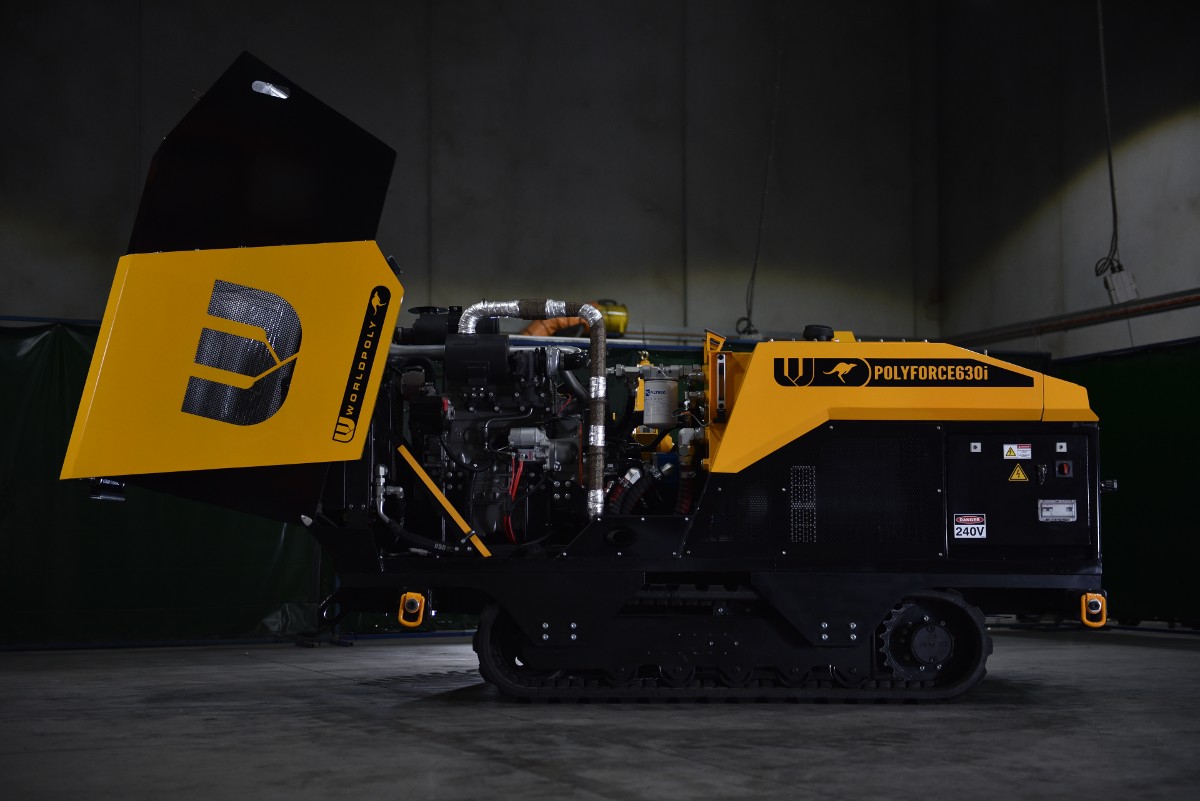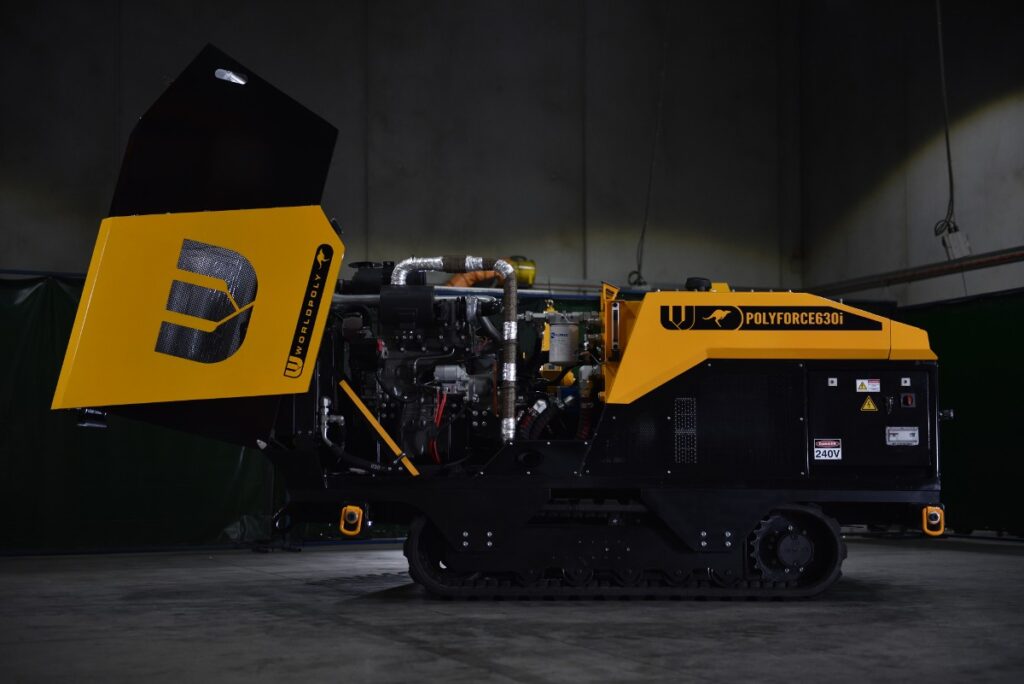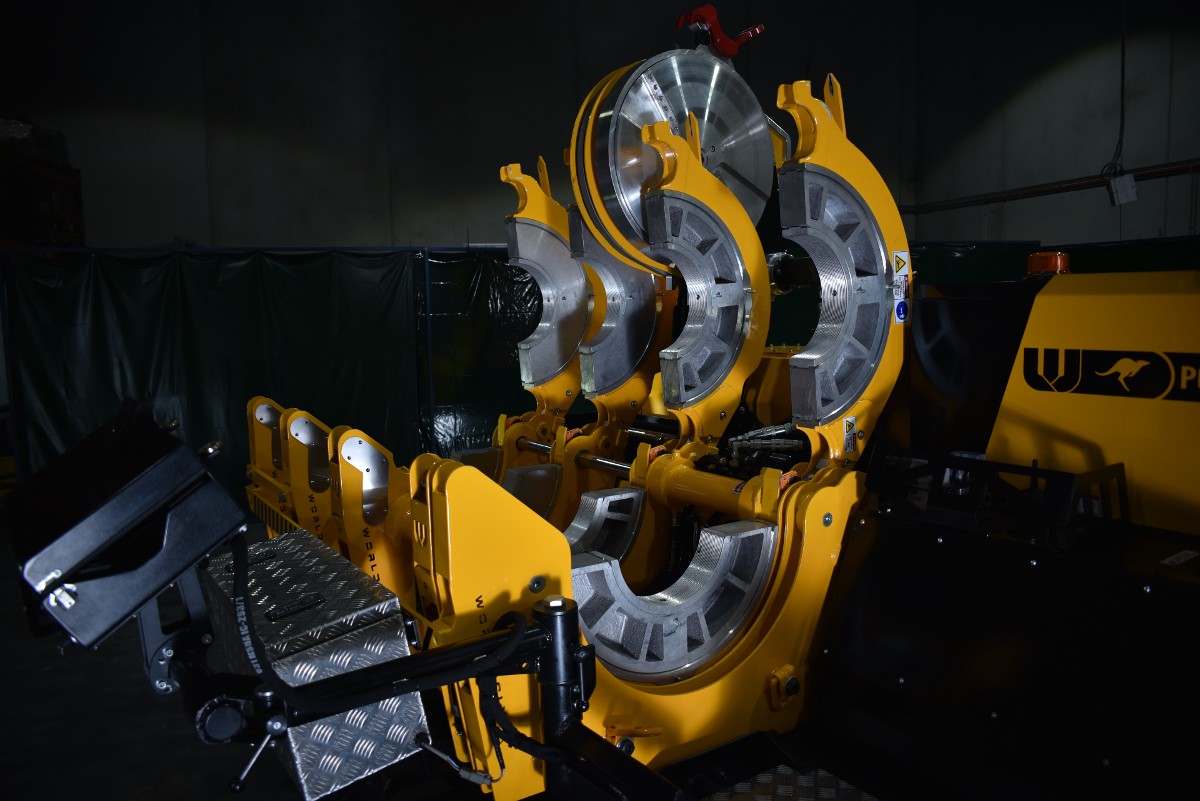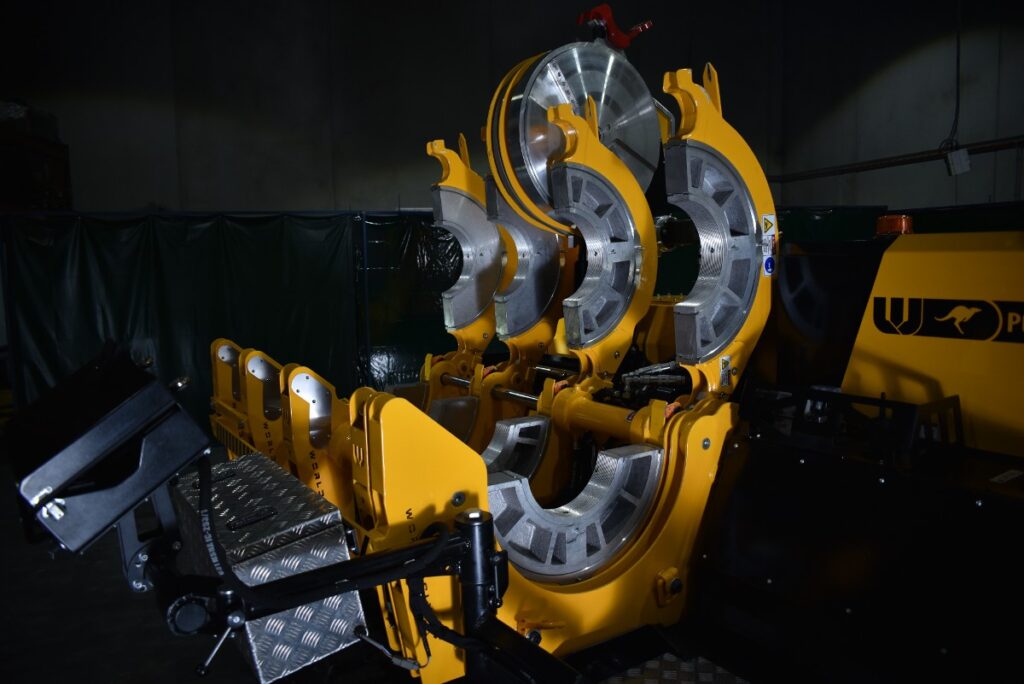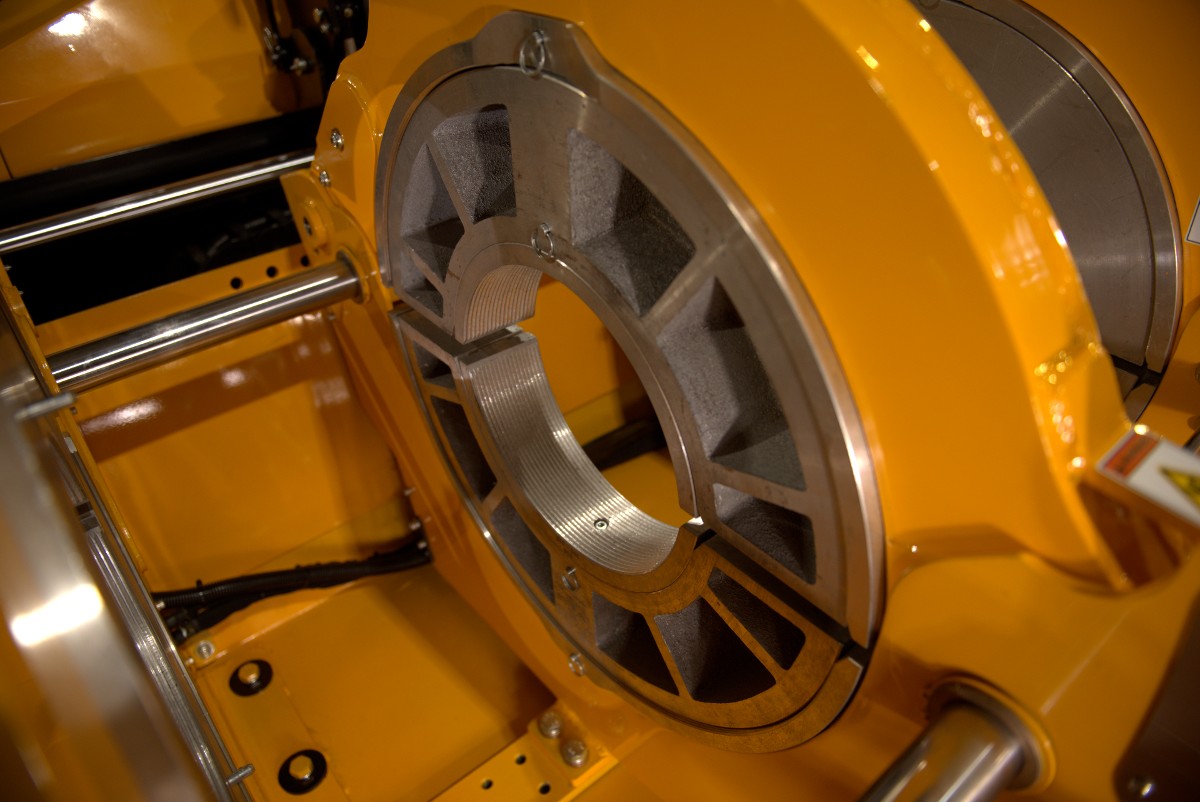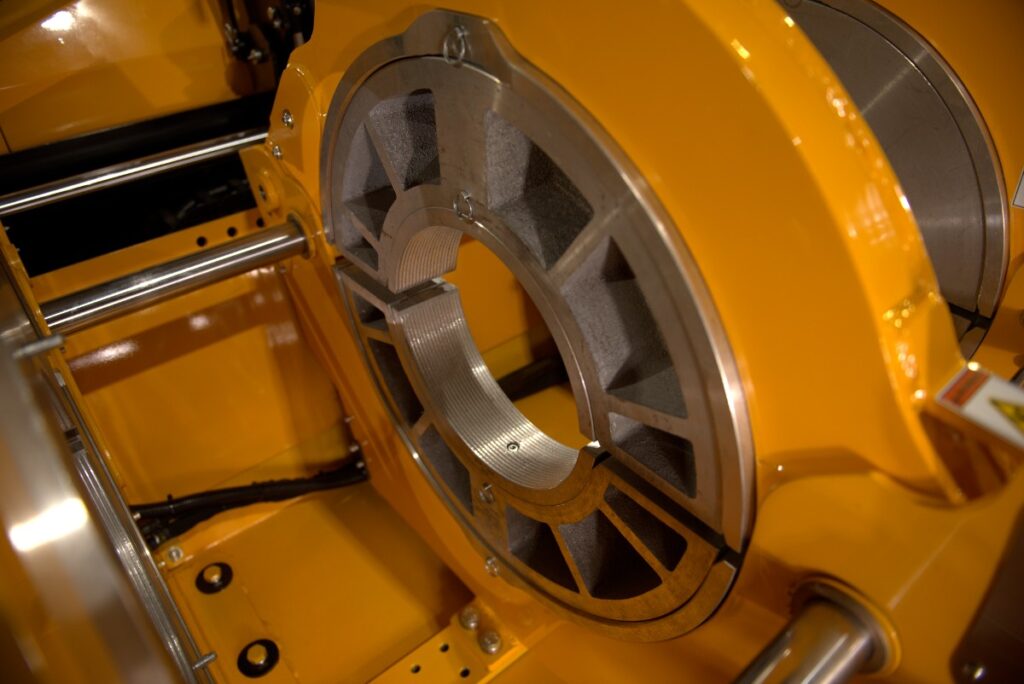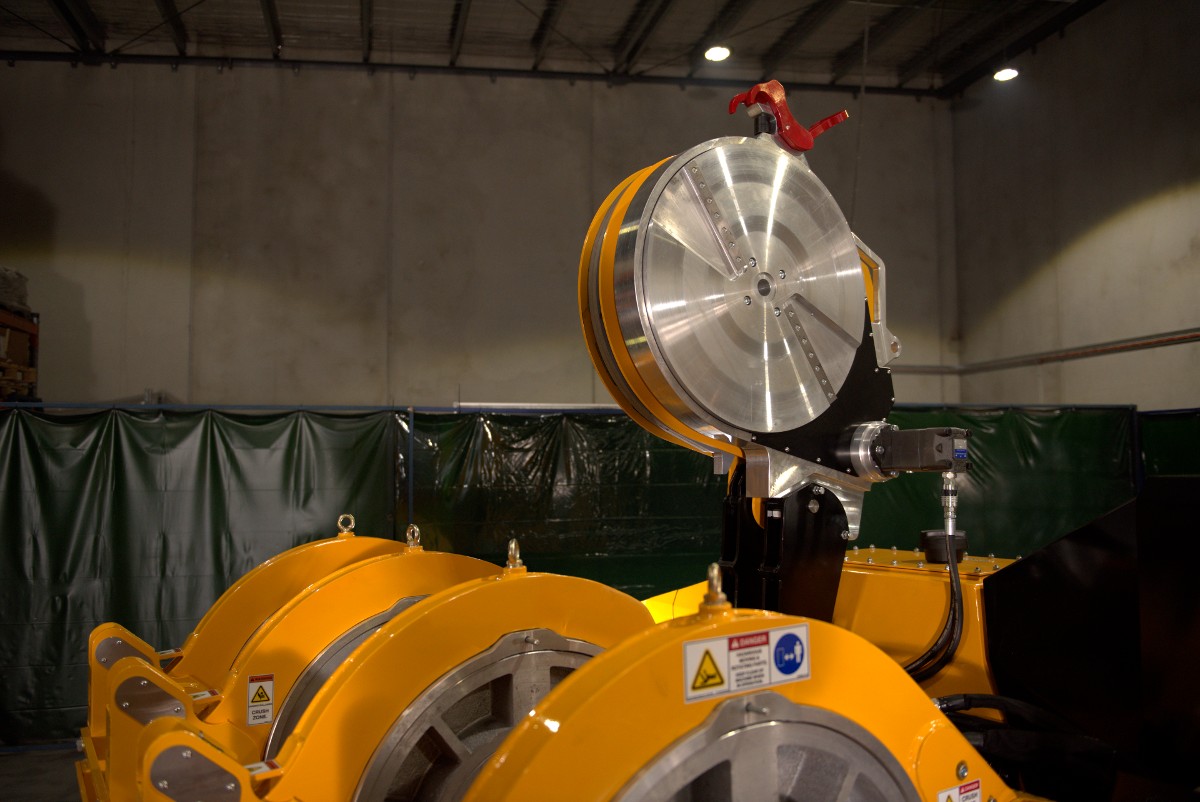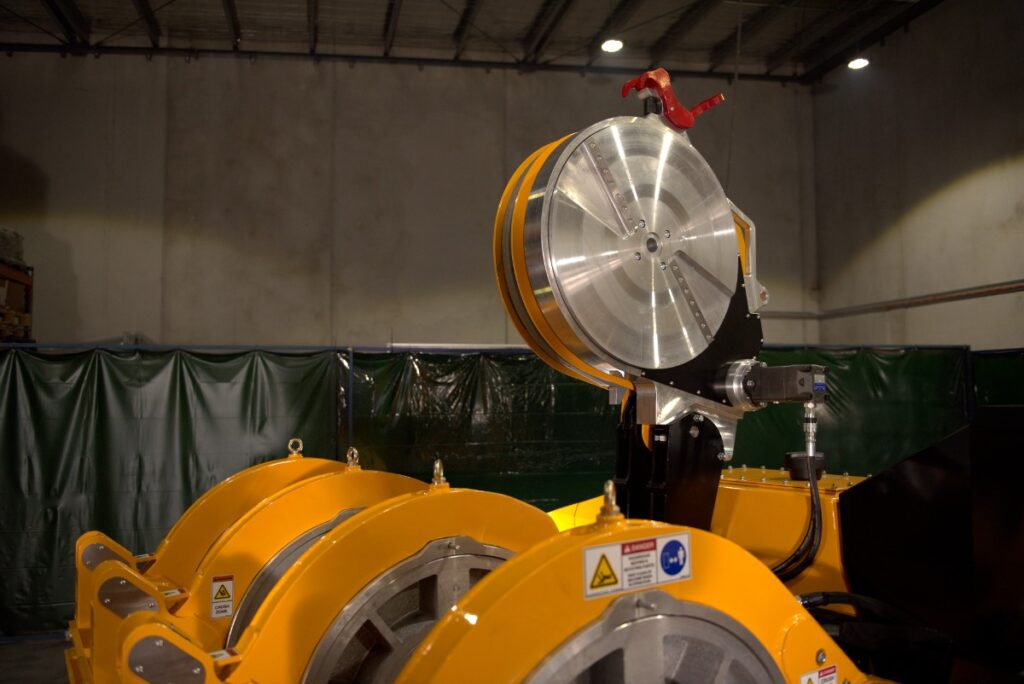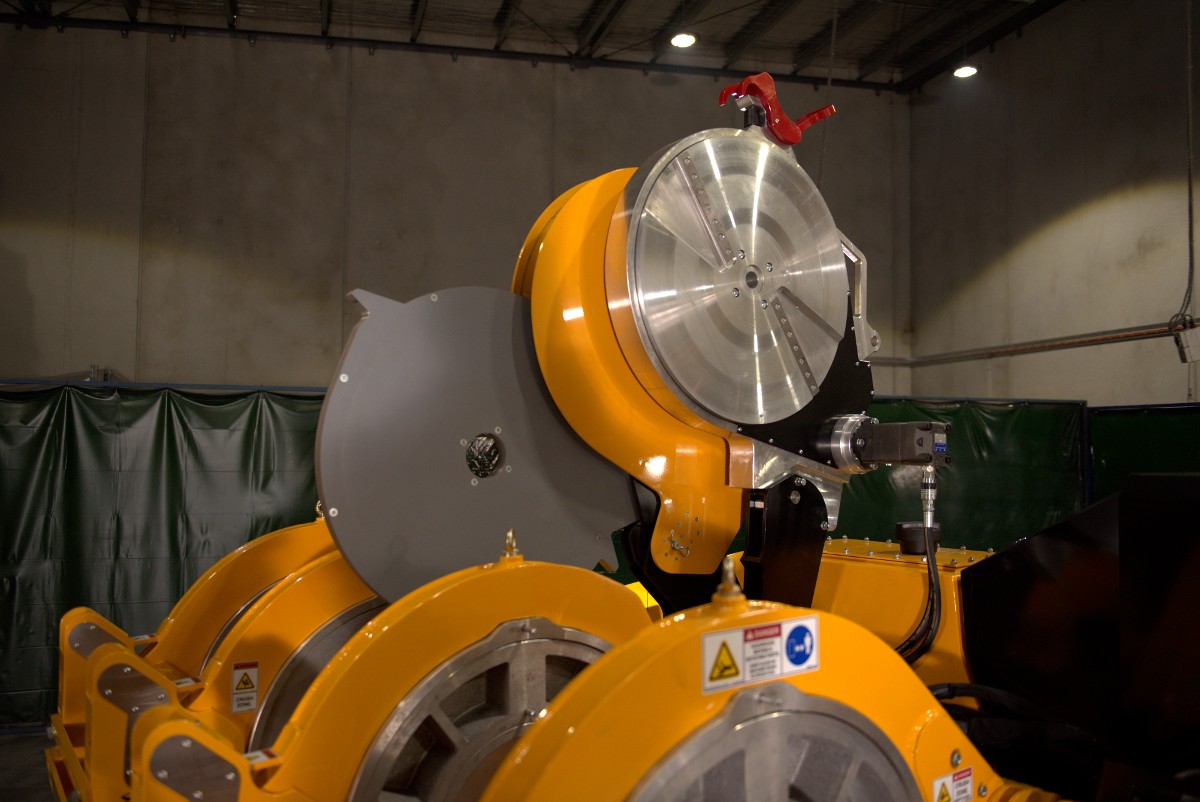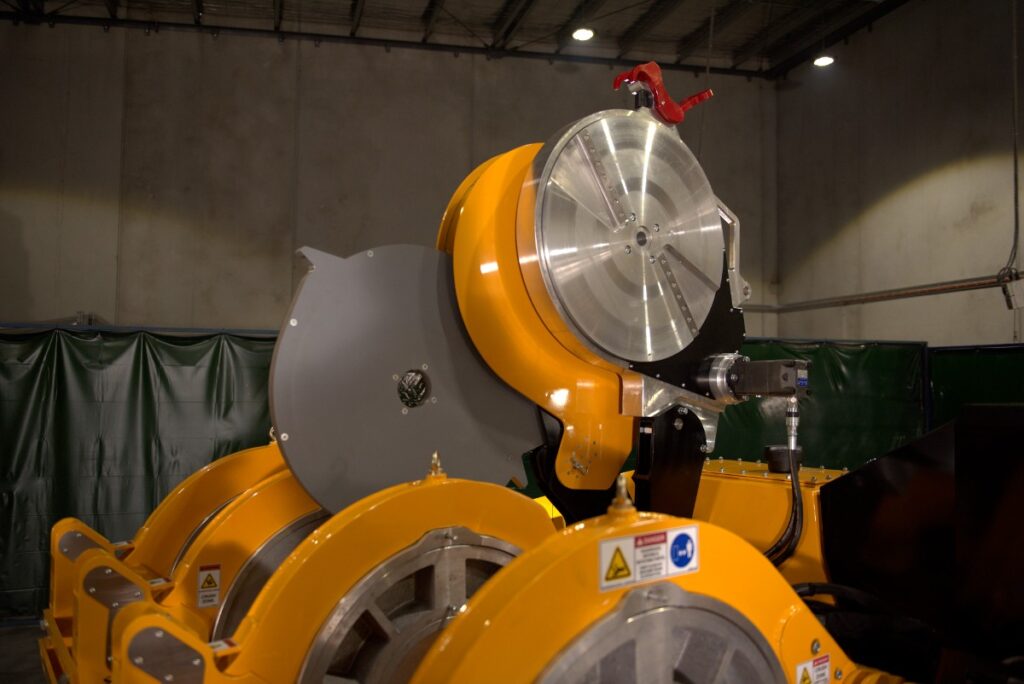 You may also be interested in